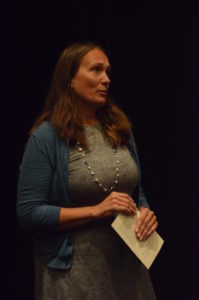 Over 120 Muskingum University students, faculty, staff, and community members gathered in the Sandra Wolfe Thompson Theatre to hear the story of Renate Neeman, a survivor of the Holocaust Sunday, Oct. 16.
Neeman, 90, was born in Hildesheim, Germany in 1926 and emigrated to Holland 12 years later, during the time the Nazi party was in power.  In her talk, Neeman recounted  being a young Jewish girl in an Anti-semitic, Nazi culture and state.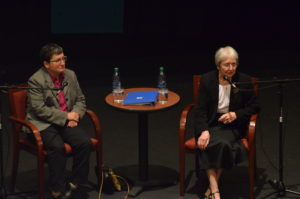 In May 1938, her father received a letter from the Gestapo, stating that he was to be picked up and taken to a concentration camp. Him and her mother, Erna Berg, decided to leave Germany and send for their daughter later after they got settled in the Netherlands. Neeman's father had his passport seized and wasn't able to legally leave Germany until he paid an escape tax.  Neeman was left behind with her grandmother in Hildesheim, who told her that her parents went to Berlin so her father could have a kidney surgery performed.
"It was a decision of life and death," said Neeman. "Because my father would not have survived the concentration camp and my mother had to help as much as she could and [she] knew I was safe with grandmother."
In mid-July, Neeman received mail at her home that had her mother's handwriting and a Dutch postage stamp.  She then learned the truth that her parents were illegally in the Netherlands and that their government allowed them to stay there.  Her parents sent for her later in July after sending signed papers for her.
It wasn't until 1940, when the Nazis overtook Holland that there were problems for her family. In 1942, the Germans decided that both her father and her mother must be put in jail for 3 months because they did not pay the escape tax to leave Germany in 1938.  After talking with the government, they reached agreement that they would go consecutively, and not at the same time, so one parent could stay behind and take care of Neeman.
Her father went to a concentration camp on the German/Dutch border to serve his sentence. When he came back, his wife was sick and in and out of the hospital.  They decided to go into hiding after that, with help from their other family members.
Neeman emigrated to the United States later and earned a Bachelor's Degree in Occupational Therapy from New York University and a doctorate in Psychology from the State University of New York.  She started talking about her experiences in 2000 in Buffalo and then in the Cincinnati area where she moved to 2 years ago.
"I think it's important to know that things like that have happened and could happen again, if they  [students] are not aware of what made it go [on], what made it acceptable for various groups of people [to do those things]," said Neeman.
Neeman has since been translating German documents from the era into English, after coming across a portion of her mother's memoir. She translated that for her children and it has since been published in Germany and the United States, with it being used to teach students in Germany about the Holocaust.
After talking for roughly a half hour, Neeman opened it up for questions by the audience for approximately another half hour. Senior History Major Beth Ford was one of the many students that got a chance to ask Neeman a question.
"You can't ask a book a question and get the kind of answer you want," said Ford. " It was amazing to see how every story was so detailed and personal."
Laura Hilton, Professor of History organized the event with the help of Neeman's daughter, Alisa Neeman, Assistant Professor of Computer Science at Muskingum University.  Hilton said that she was grateful to bring a unique opportunity like this to campus.
"This is obviously a story where the ending was that she survived and I don't know if people that left thought 'There's 6 million stories out there that we are never going to hear,'" said Hilton. "So I think it's powerful to listen to someone's story who did survive but to always be mindful for each one of these amazingly wonderful stories of survival, there are thousands of people that didn't survive."
You can watch the full talk and Q-and-A session below on our YouTube channel, Orbit TV:
Listen to a separate one-on-one interview with Marty Kurtz and Neeman. Neeman talks more in depth about her childhood, specific instances where she struggled with Anti-semitism, and why she thinks the Holocaust is an important part of history to discuss.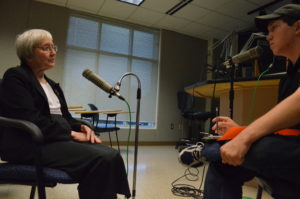 Tune into WMCO on Oct. 25 to hear the one-on-one interview at 11 a.m.