Marty Kurtz, Orbit Media Reporter
This year, when the artists Chuck Wicks and Parmalee were announced for Muskiepalooza's Big Concert, I nearly jumped for joy.  Being a country music fan, it took me about 5 seconds to call dibs on being able to cover the concert.  Although some people weren't exactly happy with the choice of artist, I was very, very happy.  I think part of the reason why some students weren't happy with Chuck Wicks and Parmalee was because they weren't fans of country music or just didn't know them as artists.
After getting the okay to be able to take photos at the concert, I made my way into the Anne C. Steele Center and waited for the concert to begin. I stood right in the front row, behind the barricade until fifteen minutes before the show, one of the tour managers looks at me and says, "Are you taking photos for the school?". I nod my head yes as he responds, "Shouldn't you be back here then?", referring to the "pit", as photographers call it. At the time, I didn't realize I could be in the pit so I said, "Yeah, I probably should!". By that time, everybody was packed like a can of sardines behind me, so instead of pushing my way through people to get back there, I ended up jumping backwards on to the barricade right?
Anyways, being the photographer, you get three songs from each artist and then you're done and out of the pit.  The lights went out, and out came Chuck Wicks, who started with "All I Ever Wanted", an upbeat love song which got the crowd going right from the start. Wicks kept the set going, mixing up the upbeat songs like "All I Ever Wanted" with some deeper songs like a song he wrote for Jason Aldean "I Don't Do Lonely Well" and his first single which reached top 5 on the Country Charts all the way back in 2007, "Stealing Cinderella". For a song that is close to 10 years old, it is still pretty popular and had some people tearing up in the crowd. After that, I wasn't sure exactly what Wicks was going to play.  He only has two albums out to date and had already played his big hits. It wasn't until the guy next to me started yelling, "Freebird, play Freebird!" that I realized Wicks would probably finish his set with a few covers. Wicks reeled off a few classic hits like Joe Diffie's 1994 song "Pickup Man" as well as the 1995 Tim McGraw song "I Like It, I Love It", but the biggest cover of the night was what I consider one of the best country songs ever, "Friends In Low Places".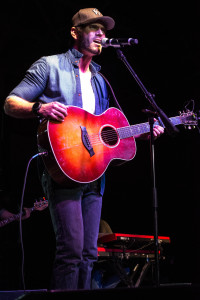 While it's not "Freebird", it is definitely up there as one of the best sing-a-long songs of all time.  It was one of the best moments of the whole night as the crowd sang the  "Well, I guess I was wrong, I just don't belong, but then, I've been there before" line louder than any other line of the night. There's just something about the opening of that song that just puts everybody on the same page. Regardless of if you're a country fan or not, you at least know some of the lyrics. The entire 1990s country vibe was great and allowed for the audience to be able to hear more than just Wick's songs to date.
After Chuck Wicks was done with opening for Parmalee, I was pretty excited to get back in the pit for the main attraction of the night, Parmalee. I'm a big fan of the country-rock group as I bought their CD, "Feels Like Carolina" when it first came out in 2013 and really enjoyed every song on the album.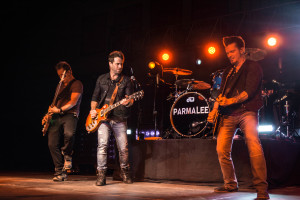 Like Wicks, they started off with an upbeat song, but this time with the rocker "I'll Bring the Music". It was a good choice to start out as it got everyone back into the concert atmosphere after the intermission. They kept the tempo up with their own country love song, "Already Callin' You Mine" as well as "My Montgomery". In the set, Parmalee added two songs they are planning on putting on their next album called "Lonely Girl", and their lead single from their second major album "Roots", which will be released to radio this week. Parmalee also did a couple covers of their own as they covered the 1979 party classic by Hank Williams Jr. "Family Tradition" and the Marshall Tucker Band's 1973 song "Can't You See" Parmalee did a wonderful job covering their country and rocks roots. To wrap up playing their own music, they finished with their number one hit song, "Carolina", which had everyone in the crowd, myself included, yelling and singing at the top of their lungs. Just as we thought the concert was over because the lights went out, they started playing the intro to the Prince's 1984classic, "Purple Rain" and the lighting went purple as the band began to honor the artist who recently died.  It was a good way to end the concert. While not an upbeat song to end on, it was again something that got the whole crowd singing and swaying along to. It was very fitting for a campus such as Muskingum, where everyone is close to each other.
In my opinion, the concert was pretty great! I enjoyed the entirety of the show, whether it was being in the pit for photos, watching somebody crowdsurfing, or just singing along to every word of "Friends In Low Places". I really think that Chuck Wicks and Parmalee did a great job of understanding who their audience was and played to their strengths by covering some classic songs and giving the audience a variety of songs to dance and sing along to.  Everybody that I saw at the concert has a great time!
Thank you to Muskingum Programming Board for hosting the Big Concert and letting me be able to get up close and take photos, it was an absolute blast! Also, thank you to security! All of security employees were really helpful by allowing me to get in and out as I needed.