April 20, 2002 was a rainy day in New Concord, but that didn't stop Muskingum University's Groundbreaking Ceremony for the new Communication Arts Complex, Philip and Betsey Caldwell Hall. The weather caused the ceremony to relocate to John Glenn Gym.
The entire Communication, Media, & Theatre Department (CMT) was under one roof when the building was complete. Before Caldwell Hall, the speech, radio, and television programs were located in the bottom floor of Cambridge Hall. The theatre offices and Layton Theatre were housed in Johnson Hall, which was located on the east side of campus.
WMCO temporarily signed off the air at the conclusion of the Fall 2003 semester to prepare for the move. The station returned to the air on its birthday, January 28, 2004, from the Geyer Air Studio. DJs wore hard hats in the facility as Caldwell Hall was finished that spring. Retired Broadcast Engineer Sonny Alfman and retired Professor Jerry Martin are featured in the April 13 issue of The Black & Magenta recalling the transition.
From an interview from the 2002 groundbreaking ceremony, Muskingum Board of Trustees President and WMCO Student Founder, Hal Burlingame, conveys the excitement of the communication and theatre programs being together in the same facility. The second floor of the building includes the Burlingame Communication Center, the new home of radio and television programs.
At the building's debut, the broadcast facility housed 45 miles of cable, 513 individual cables, and 315 pieces of electrical equipment.
The building honors Philip Caldwell and Betsey Clark Caldwell. Philip Caldwell '40 was a Muskingum University alumnus who succeeded Henry Ford II as Chief Executive Officer and Chairman for Ford Motor Company. He was the first non-Ford family member to run the company. Caldwell was a Muskingum University Board of Trustees member for 37 years. He died on July 10, 2013 at 93.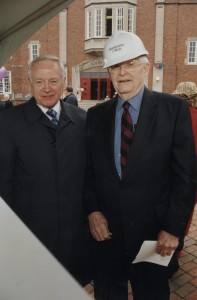 Over 1,000 guests signed I-beams that have a permanent home in the 4th floor catwalk of the Sandra Wolfe Thompson Theatre. The first full academic year in the building was 2004-2005. The building was officially dedicated October 22, 2004.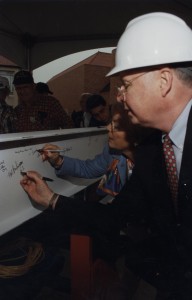 During construction, alumni and friends could view live progress through a webcam link on the Muskingum.edu home page.  See the Fall 2002 Muskingum Alumni Magazine for additional groundbreaking photos, plans, and details of the facility. Thank you to Muskingum University Public Relations for providing photography from the groundbreaking ceremony.