The 5th Annual College Radio Day is Friday, October 2! Celebrate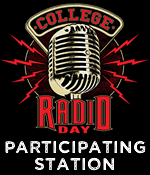 with 24 hours of live programming on WMCO! We'll bring you live shows starting at midnight, including a live remote from 11 a.m. to 1 p.m.
College Radio Day is a way for college and high school stations to say "thank you" to our audience and schools. This year's theme is "Your Authentic Guide to the Next Generation of Music." Thank you for helping keep WMCO 90.7 a thriving part of the Muskingum and New Concord Community.
Please tune in on October 2, and thank you for listening to WMCO!