Troopers are investigating a crash that led to a foot pursuit in New Concord early Monday evening.
Brian Kesner, 36, of New Concord reportedly drove his Ford Explorer through a fence, striking a utility pole while traveling northbound on Rix Mills Road, according to Trooper Jordan Butler of the Ohio State Highway Patrol, Zanesville Post.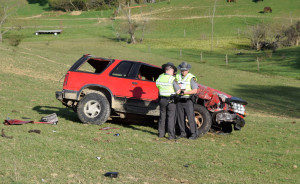 Witnesses tell police Kesner fled the scene on foot upon seeing approaching emergency vehicles.
Police were searching Kesner's residence when neighbors alerted them that he was running along Main Street.
After a brief foot pursuit, Kesner gave up without incident near Fuel Mart at the intersection of Main Street and Friendship Drive.
Troopers say Kesner appeared to be heavily intoxicated, saying he didn't remember leaving the scene.
Kesner also told police another person was driving the vehicle, but no other driver has been identified.
Kesner was transported to Genesis Hospital in Zanesville for his injuries.