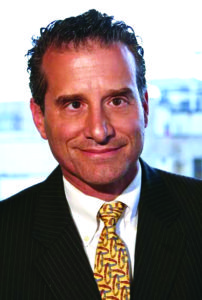 For Glenn Schuck, when growing up in New Jersey, he often corrected people about how to spell his first name.
"It's Glenn, like John Glenn," he would say, proudly stating he was named after the first American to orbit the earth.
Schuck, now a reporter in New York  City with over 30 years of broadcasting experience, currently serves as an anchor for 1010 WINS, the No. 1 news radio station in the country. Schuck was the first radio reporter to visit the site of Ground Zero after the Sept. 11 attacks with then New York City Mayor Rudy Giuliani.
Schuck's parents named him after Sen. John Glenn's 1962 historical achievement. Both of Schuck's parents were in attendance at the March 1 Manhattan parade to honor Glenn's flight, a parade which showered him with over 3000 tons of ticker tape.
Schuck's father was from the Bronx and his mother was from England, but both understood the importance of what New Concord native Glenn achieved on the 1962 Mercury-Atlas 6 mission.
"They were so caught up in the heroism and courage he displayed and how amazing they thought the accomplishment was that they sat down and said, 'You know, we maybe [would] like to name our next child after him,'" said Schuck.
Even though his parents didn't have any personal connection to Ohio, the Schuck family understood how significant Glenn's accomplishment was. Schuck's mother was particularly touched by Glenn's achievements.
"She talks about it all the time, how much it affected her," said Schuck. "She stood there in awe of John Glenn and what he achieved and it immediately popped in her head that she wanted to name me after him."
Schuck has two brothers and one sister, but is the only one of his siblings not named after a family member.
After Glenn learned Schuck was named after him, Glenn often sent Schuck signed letters and pictures. Glenn even gave him a picture signed by Neil Armstrong after his moon landing mission in 1969.
Schuck met Glenn in 1998 in New York City during a second ticker-tape parade honoring Glenn going back into space on the Space Shuttle Discovery.
Although Schuck only met Glenn the one time, he spoke to him numerous times over the phone beforehand. Glenn even helped him get in contact with Edgar Mitchell for a high school newspaper feature article Schuck was writing. Mitchell was a central figure in the 1971 Apollo 14 mission, where Mitchell was the Lunar Module Pilot.
"These are the kind of things [Glenn] did," said Schuck. "If I called and asked for help, he would facilitate [that help] pretty quickly."
After Glenn's death, Schuck was the first reporter 1010 WINS called on Dec. 8. Schuck not only oversaw the station's 24-hour coverage of the event, but also did numerous on-air interviews about his special connection with Glenn.
"It was a sad time but at the same time…[I] had a lot of pride in the fact that I had that connection with him," said Schuck.
Schuck said for as much as Glenn accomplished in his life, he was in awe of his bravery and impressed with his ability to remember everybody he met. He said Glenn is on his own personal list of the biggest historical names of the 20th century.
"You wonder if you will ever see somebody like John Glenn ever again in our history in terms of what he achieved," said Schuck. "[He was a] family man, a political man, the courage that he displayed, what he did for the space program, [for] the world really. Will we ever see anybody like this man again? I don't know. Probably not in my lifetime."
Schuck said he is honored to carry Glenn's name and wants to come to the New Concord area to explore the town where Glenn was raised.
He hopes to visit the historical places which focus on Glenn and his life, including Glenn's Cambridge birthplace as well as namesakes like John Glenn High School, Friendship Drive, the John Glenn Gym on Muskingum University's campus, and most notably the John and Annie Glenn Museum located on Main Street in New Concord.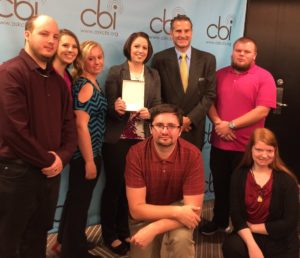 This article is featured in the March 2017 issue of The Black & Magenta.