For the thirteenth consecutive year, the Cambridge Eagles' Club banquet hall was filled to the brim with patrons wanting to hear the smooth jazz of local performers. This year's Jammin' for Johnson benefit came with a bit of a twist.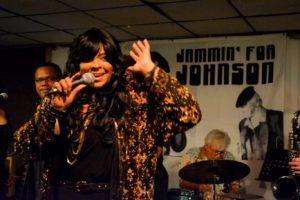 Sheila Raye Charles, daughter of the renowned Ray Charles, made an appearance, performing a few of her father's hits like "Hit the Road Jack" and "Georgia On My Mind" that had the crowd on their feet.
Jammin' for Johnson is a benefit geared towards raising money for local music students around the area, created in the memory of late Harry "Bunk" Johnson, a local musician that was beloved in the Cambridge community.
Alicia Thornton, Johnson's daughter, said the crowd keeps growing year to year, so they will eventually need a different venue to hold the event.
"It just keeps growing every year, not only with the community coming out, but the musicians that want to come out to play," said Thornton.
Todd Thornton, Alicia's husband, and the main organizer for the benefit, said because of the abundance in talent, it was a challenge to fit all the performances into the given time slot, Alicia  added that they wanted to let all the musicians have a chance to play, even if that meant exceeding their usual time frame.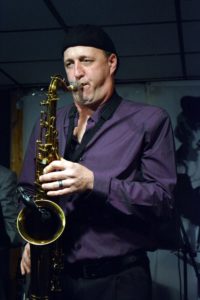 "We may have to go from three hours to four or five hours, because it's gotten so big," said Alicia. 
At the same time, the Thorntons are more than grateful to see so many people in attendance.
"It is kind of bittersweet to me, because it is in memory of my father and he was a musician also," said Alicia. "So to see all the musicians that he played with over the years come out and donate their time and their talent to raise money for this scholarship is a blessing."
This year, the same two recipients as the preceding year received the Bunk Johnson Music Scholarship Fund, Levi Masters, a sophomore at Muskingum University, and Matti Chrisman of Kent State Universty. The scholarship is normally awarded to local high school students looking to further their education in the music field. However, it can also be awarded to current college students like Masters and Chrisman who are majoring in music during their college career, but who have had to have graduated from Buckeye Trail, Cambridge, Meadowbrook, and John Glenn High Schools.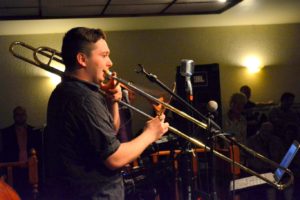 Masters said the experience of getting to play alongside names like Sheila Raye Charles and George DeLancy, the first recipient of the Bunk Johnson Music Scholarship Fund, was a humbling experience.
"It's an honor," said Masters. "I am really just a small fish, compared to everyone else."
Masters said the scholarship helps him with the costs that studying music in college entails.
In addition to providing students with the Bunk Johnson Scholarship, Todd said the benefit allows them to provide local school with instruments that students would otherwise not get the chance to play.
Charles said the Jammin' for Johnson event gives international musicians, like herself, the chance to provide other musicians the chance to have their moment in the spotlight.
"There is so much talent going around in the basement that's not heard of, that will never be exposed, because they don't have the resources and the support they need to get to where they need to go," said Charles. "What they're doing here I think should be done across the country, because there are young people that are going to be here tonight that got their first scholarship and now have graduated from college and have gone on to perform with some of the greats."
There was never a moment without music at the benefit. According to Alicia, they planned to stray away from previous years' schedules, this time avoiding as many intermissions as possible.
"We're trying to do something a little different this year, where there's really not a break in music," said Alicia. "When the Jamming All-star Jazz Band stops, then another group is going to get up and fill that gap when they take a break, so it's going to be nonstop music all night."
Many other performers took the stage throughout the night, including Dave Powers, 3-time Emmy winner, playing piano, Louis Tsamous as well as Bill Armstrong playing drums, and Mike Lee playing trumpet. Thornton and Masters also played the saxophone, Don Compton and Chrisman performed vocals, Tim Milligan and Reb Robinson did an acoustic set, Kenny Joseph and Mike McWilliam both played guitar, and George DeLancy played bass to entertain the crowd.