Dogs of all breeds roamed leash-less in and around the New Concord Area Pool (NCAP) on Saturday August 27 and Sunday August 28 from noon until 2 p.m. as a part of the New Concord Area Arts and Recreation (NCAARD) Dog Days.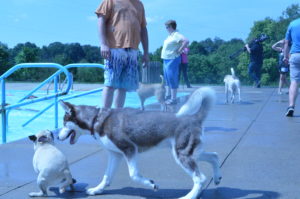 As a way to commemorate the end of the pool season, NCAP opens its gate to man's best friend. This is an annual event for NCAP.
Dog owner, animal lover, and Program Director of the New Concord Area Arts and Recreation District (NCAARD), Judy Beetem, looked forward to this day all year.
"This weekend is a crazy dog festival," said Beetem, "Seeing all of the dogs is like candy land for me, I am an animal person and it's just so much fun."
Children, parents, and dog enthusiasts of any age are welcome to swim alongside their fury-tailed friends.
"We've got everything from St. Bernards and Newfoundlands, to huge pony dogs, to little, tiny Yorkies and little Chihuahuas in life jackets," said Beetem.
In the future, NCAARD intends to do more events like Dog Days as they also continue plans for a Dog Park in the local New Concord area.