The Roberta A. Smith Library played host to an Opiate Addiction Workshop on Nov. 19. The focus of the workshop was to discuss addiction in the local area.
New Concord and Muskingum University leaders came together to participate in the presentation as well as to watch it. Those in attendance included: Muskingum University President Susan S. Hasseler, Muskingum University Minister and Will Mullins, and College Drive Presbyterian Church Minister, Anne Weirich.
Muskingum University Assistant Professor of Health Science, Shelley Amstutz-Szalay, and Muskingum University Senior Lacey West each spoke of the impact addiction has among people.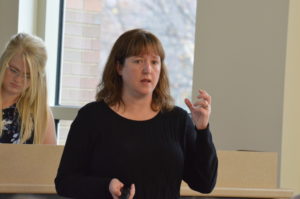 "We need to come together as communities and deal with this because it does affect the whole community," said Amstutz-Szalay.
West echoed Amstutz-Szalay's statement by emphasizing the fact that the person with the addiction isn't the only person whose life is changed by it.
"It affects everyone and not just that one person," said West.
Amstutz-Szalay focused on the scientific aspect of the addiction process specifically mentioning the parts of the brain that the drugs affect. She said that it is the center of the brain that recognizes pleasure. When pleasure is recognized Dopamine is released and that is what makes the person feel good.
"Drugs stimulate the same part of the brain and provide the same responses but they do it in a bigger way," said Amstutz-Szalay.  "So It's a bigger feeling of pleasure."
Amstutz-Szalay along with Professor at the Methodist Theological School in Ohio (MTSO), Bradford Price, support the idea of having open conversations about addiction. 
"I'm glad that we are having these conversations and bringing it out in the open," said Amstutz-Szalay. "I think that that helps a lot of families that are dealing with this."
MTSO is located in Delaware, OH and is one of 13 official United Methodist Church seminaries
Price said that the first steps in talking about addiction issues are just being more aware of their presence in society.
"I think the biggest thing is just to be aware of what is going on around us," said Price. "A lot of Americans use mood altering chemicals in various forms and some wind up developing [an] addiction. The first thing is to simply recognize that that happens, talk about it.
Price believes that talking about all addiction habits are important, not just opiate addictions.
"What we tend to do is evaluate and find some positive or negative benefit or value to mood altering chemicals," said Price. "[We] judge some as being especially harmful and detrimental more than others and then make judgements about people who use them."
He said that distinction and judgement of certain drugs prevents the recognition of serious addictions.
"That gets in the way of recognizing when folks are actually in the midst of a chronic disease process and it's hurting them," said Price.
Price feels that while opiates are important, harmful addictions to any drug should be topics of discussion around the nation.
"While the opiate overdose issue is very tragic I think, half a million Americans every year dying of smoking related illness is just as tragic," said Price.
New Concord Police and Fire representatives were also in attendance, Patrol Officer, Jeff Dawson, and New Concord Fire Chief, Brent Gates, were part of the workshop.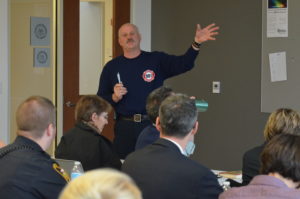 Gates said that him and his team are looking toward the future and are being proactive about addiction and how his emergency medical response team might be needed.
"We are prepared," said Gates. "We train. We are aware and we are ready for it."
Dawson emphasized the role New Concord itself plays in the drug transportation routes.
"A lot of times what we see is more the running traffic coming through rather than people inside the village that are actually making or using the drugs here in town," said Dawson.
He said that drug runners are beginning to see a problem with State Route 40 and Interstate 70 as their connector between Cambridge and Zanesville because there are so many law enforcement offices along those paths that they could come into contact with between the two cities.
"Being that there are so many law enforcement agencies so close together the likelihood of them getting caught is higher than it is if they were to loop up and around and go through more of a rural area," said Dawson.
West, though not specially talking about New Concord, was shocked after learning more about opiate addiction statistics throughout the state.
According to the Ohio Department of Health (ODH), there was a growing use of opiate prescription drug abuse and as a result ODH Medical Director, Dr. Mary DiOrio, said that as a collective Ohio doctors prescribed "81 million fewer doses" in 2015 in order to decrease the amount of possible abuse.
"I was really surprised how prevalent it is, especially in Ohio alone," said West. "We don't realize the severity of it and how many people it really effects."
The workshop was sponsored by Muskingum University and Presbyterian Church USA.
Weirich said that there is a possibility of  a second workshop on March 18, but nothing has been finalized as of yet.  
Check out more photos below from the Opiate Addiction Workshop hosted in the Roberta A. Smith library from Orbit Media.