The Muskingum Athletic Hall of Fame inducted four new members and honored the 1966 Ohio Athletic Conference Champion football team during the Hall of Fame breakfast on Oct. 29.
Carla Kampschmidt '01 and Dani Keiffer Lamonica '01 were both members of the 2001 national championship softball team. Kampschmidt and Lamonica were four-time OAC Champions from 1998 to 2001 and were NCAA Regional Champions in 1998 and 2001.
Lamonica helped lead the Muskies' pitching to the 2001 national championship while Kampschmidt holds the record for most at-bats in a season (183) and a career (641).
Lamonica said she was honored to be inducted into the hall of fame.
"I would like to thank Muskingum University for this honor," said Lamonica. "It is exciting to know that whoever nominated me knew the story of the road to the national championship, which was filled with pain, tears, laughter and so many memories."
Former second baseman Shelly DeLucas presented Kampschmidt and compared her work ethic to that of major sport teams.
"If only she could get her Cincinnati Reds and [Cincinnati] Bengals to work as hard as her," said DeLucas.
Rudy Visnich '56 was a co-captain of the undefeated 1955 OAC championship team, playing offense and defense in the final three years of his playing career. Visnich led the team in pass receptions in 1955 before graduating in 1956 with his Bachelor of Science degree in mathematics.
Visnich recalled the final game of his senior season against Mount Union in 1956.
"It was the last game and Mount Union didn't have anything to lose and everything to gain," said Visnich, adding that both teams went scoreless in the first half of the game. "We played not to win. We played to not lose." Muskingum went on to win the game and finished the season undefeated and untied.
Larry Cole '77 was inducted under the special category of the hall of fame. Cole began his coaching career from 1982-90, coaching the mens and womens track and field teams. Cole also coached 52 conference champions, 15 Division III All-Americans, and four womens conference championship teams before moving on to coach at Ohio Northern.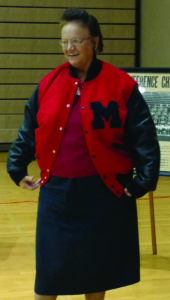 President Susan S. Hasseler helped to kick off the event by honoring both the 2016 inductees and former inductees that were in attendance.
"I believe deeply that everything a student does is a part of their education in and out of the classroom," said Hasseler. "Today like every day is a great day to be a Muskie."
During the event, Athletic Director Larry Shank made a special presentation. He gave Kathy Smith, the administrative assistant for the athletic department, with her own Muskingum Varsity jacket in honor of her upcoming retirement.