Mental Health Awareness Day was hosted by Muskingum University Counseling Services, Psychology Club, and the Psychology Honorary, Psi Chi on Sept. 21.
Their theme for the day was knowing the five signs of mental distress.
The Five Signs initiative is an international push by the "Campaign to Change Direction," which is a cause that educates the public about mental health.

Though the national campaign began in 2013, Mental Health Awareness Day has been a cause supported on campus since Tracy Bugglin, Director of Counseling Services, joined the Muskingum University Staff 10 years ago.
"Mental Health Awareness is a very important topic," said Bugglin. "One of the reasons we like to do Mental Health Awareness Day is also to bring awareness to the fact that counseling services exists at Muskingum University. Some of the students are not even aware that we are here. So we pick a topic each year that might just draw folks in."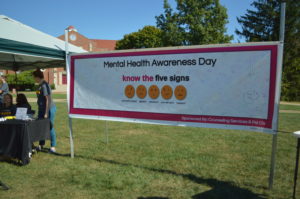 Psychology Club, Psi Chi, and Counseling Services were on The Quad on the afternoon of Sept. 21 to hand out educational information and to give Muskies a chance to sign a banner in show of support.
"As our banner indicates many students have stopped by today to draw their hand to indicate the five signs and that is kind of what the five signs are about," said Bugglin. "[In the] national campaign you put your hand out there to show that [you] know the five signs."
The two organizations, alongside Counseling Services, also hosted several activities in the Walter K. Chess Center later on in the evening to continue bringing awareness to their cause.
Activities included aromatherapy, massage chairs, guided imagery cds, a chocolate fondue station, and adult coloring. The final event from 8 to 8:30 p.m. was beginners yoga.
Students could also find Five Sign cookies in Thomas Dining Hall, Patton Dining Hall, and the Top of the Quad Center.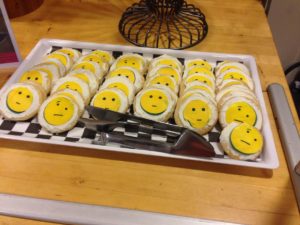 The Five Signs of mental distress are personality changes, feeling agitated, feeling withdrawn, poor self-care, and feeling hopeless.
"The Campaign to Change Direction" pushes for people to value their mental health as much as their physical health.
According to their website, the campaign was prompted by a conversation from Vice President of The United States, Joe Biden's, staff and Give An Hour President, Dr. Barbara Van Dahlen, in response to the shootings at Sandy Hook Elementary School in Connecticut.
Many public figures have also taken up the Five Sign cause, including First Lady Michelle Obama and actor, Richard Gere.
Muskingum University Counseling Services wants people to recognize the Five Signs and encourages them to reach out for help if needed.