New Concord experienced its second tree lighting this holiday season on Wednesday, Dec. 7.
Muskingum University Student Affairs Student Involvement Coordinator, Jess Edge, University Chaplain, Will Mullins, and Student Senate Spiritual Life Representative, Traci Wilson, worked together to bring the 2nd  Annual Tree Lighting to life on campus.
President Susan Hasseler opened the 2nd Annual Tree Lighting by inviting everyone to grab warm hot chocolate or cider while she spoke.
Mullins said that the Tree Lighting event was a direct result from the collaborating efforts of people across campus.
"Each year it's gotten just a little bit bigger [and] each year it's kind of taken off in new angles and new directions and new people coming to kind of help it along," said Mullins.
Veering off from last year's path, the Tree Lighting will be held in the Quad this year instead of the Walter K. Chess Center.
"We want to make it a bigger event [and] we want to make it a more visible event," said Mullins.
Mullins said that the student involvement in this project made it possible.
"There are students that have joined together to write this program so the students have really planned this event," said Mullins.
Mullins said that the importance of the event revolves around the spirit it evokes in Muskies.
"I think this is an important campus event because it ramps us up for the holidays," said Mullins.
Though all speakers spoke from the heart they attempted to spread universal messages.
"It's a time to celebrate our traditions as individuals and also our traditions as a college community," said Mullins.
The Tree Lighting featured three trees and each tree represented each of the three major themes of the event. The three themes of the night were charity, love, and light.
"What we hope this event means to students is to really understand that this is a season of peace and hope regardless of your religious tradition," said Mullins.
The Tree Lighting gave all Muskies the chance to celebrate before leaving for winter break.
"This is an opportunity for students, faculty, and staff to share that kind of good holiday cheer together with one another before we all go our separate ways," said Mullins.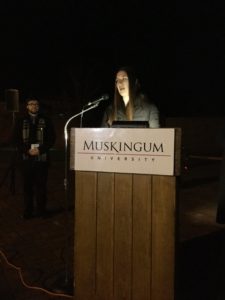 Seniors Erik Albright and Cindy Mullins each spoke of a theme before the lights of the tree were turned on. Albright told a personal anecdote about charity while Cindy Mullins spoke before the lighting of The Tree of Love.
Chaplain Mullins himself introduced the theme of Light and his invocation talked of embracing the light the people that surround us.
As each tree was light, Hasseler lead the crowd of Muskingum students, faculty, staff, and New Concord residents in singing popular holiday songs such as "Oh Christmas Tree," "Let It Snow," and "Silent Night."
She then invited everyone in attendance to go caroling before the crowd went their separate ways.