Coaches and players from the 10 member Ohio Athletic Conference schools descended on the Pro Football Hall of Fame August 4 in Canton for the annual OAC Media Day.
Representing Muskingum at the event were Head Football Coach Al Logan, senior offensive tackle Sam Lucas, and senior defensive end Jordan Lee.
The day began with opening comments and greetings from OAC Commissioner Tim Gleason, then quickly shifted to the coach's presentation session. Each coach was given roughly five minutes to speak about how the team is shaping up for the 2015 season.
"We return probably the most talented team in my nine years here," said Logan. The Muskies return 24 lettermen from the 2014 squad, and will be a veteran-led team with 32 upperclassmen returning.
The offensive attack will be led mostly by the backfield duo of senior quarterback Cody Williams and junior halfback Melvin Smith.
Williams threw for 709 yards with three touchdowns in nine games in 2014, while adding 327 yards and six scores on the ground. His six rushing touchdowns put him in a tie for first with leading rusher Smith. Smith racked up 870 yards on the ground to lead the ground attack, which finished last season as the fourth leading team rushing offense in the OAC.
Smith is known as a powerful, bruising back in the Muskie's spread offense, but this season he is looking to bring a little burst of speed to the table. Smith came into last season weighing around 230 pounds, but in the offseason he has dropped down to around 195 pounds.
Logan believes the weight change will change the way Smith plays, but not from the stance of being a bruising power back.
"Hopefully he gets into the end zone a little bit more," said Logan. "Last year I told him he had as many 30-yard runs as anyone in the country and never got in the end zone."
Catching passes from Williams include returning 2014 starters sophomore receivers Aron Sutton and Damon Jones. Senior Brandon Hardy will also return this year after missing the 2014 season due to injury.
Logan has been impressed with Hardy's demeanor throughout his recovery. "It's easy when you get hurt that you don't show up and you're not around rehabbing [the injury], but we saw him every day," said Logan. "That's how invested he is in our program and helping this team win."
Sutton and Jones ranked second and third on the team respectively in receiving yards last season, with Sutton putting up 145 yards, and Jones trailing just three yards behind him with 142 yards. The two managed just one receiving touchdown between themselves. Sutton was also used in the running game last year putting up 184 yards on the ground with one touchdown.
The group will bring some size to the table this year. Hardy along with sophomore tight end Jeremy Fivecoait both stand at 6 feet 4 inches tall, while Jones measures at 6 feet 2 inches. Sutton is the shortest of the bunch coming in at 5 feet 9 inches to work primarily as the slot receiver.
The offensive line returns a veteran group of seniors Zac Snively, Jacob Clark, Chris Hoffman, and team captain Sam Lucas. Lucas has high hopes for this season, his fourth as a starter.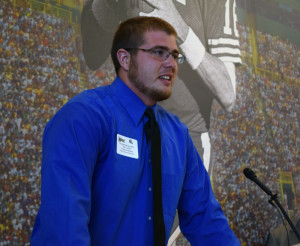 "I'm looking forward to a winning season," said Lucas. "Hopefully with everything we brought back and all the things we've done in the offseason will pay off in the fall."
Lucas believes that it will take a team effort to improve and win games. "It takes 11 guys on the field at all times to win a game," said Lucas. "If we can bring everyone along and bring the freshmen in and create an even tighter bond than we already have I think that'll make us real great during the season."
On the defensive side, the Muskies will be led by junior linebacker Chaney Fulton. Fulton led the OAC with 97 tackles last season on his way to multiple offseason accolades, including being named the OAC Gene Slaughter Co-Most Outstanding Linebacker, and Honorable Mention All-American.
Fulton will be joined by the senior trio of linebacker Zach Barry, and defensive ends Barry Parks and Jordan Lee. On the back end, senior cornerback Dorian Maynard returns with his team-leading five interceptions in 2014.
Sophomore Mick Fichel joins Fulton and Barry, but the three will be without Damond Goggins in 2015. Goggins graduated as a senior last season, after contributing 86 total tackles last season, which was second only to Fulton.
After the coaches presentations one player from each team was brought to the podium for a short interview with Commissioner Gleason. For the Muskies, Lucas was asked where his passion for the game comes from, and his response created some humor with the audience.
"As an offensive lineman, you're supposed to move a guy from point A to point B against his will," said Lucas. "There's no greater feeling in the world than doing something to someone that they don't want done to them, on the football field."
The Muskies were picked to finish seventh in both the media and coach's polls. "I think we're very underrated, and I'm okay with that," said Lee. "I'm ready to prove everybody wrong."
Mount Union was picked as the overwhelming favorite to win their 21st consecutive OAC title in 2015. The last time the Purple Raiders didn't win the conference crown was 1994.
John Carroll also received a few first-place votes, earning one in the coach's poll, and two in the media poll.
The Muskies begin their quest to prove their worth in the OAC when they host Waynesburg on September 5. The game will be live on WMCO 90.7 with pregame beginning at 12:30 p.m.