History was made in New Concord in the form of an eating competition as two Muskingum students completed the Big Kahuna Challenge at Creno's Pizza on Feb. 10.
Junior Dane Miller and senior Garret Graehling, members of the Phi Kappa Psi Fraternity, are the first to ever complete the challenge at the pizza chain's New Concord location, downing the pizza in 28 minutes.
The Big Kahuna Challenge requires participants to have at least three toppings on their 29-inch pizza and can split the pizza in half between the two people. Both Miller and Graehling said they decided to have green pepper, mushrooms, and jalapeño pepper as their toppings of choice.
"We were expecting to finish it," said Graehling. "It was $52 if we didn't finish it."
Miller said he had a similar mind set entering the challenge.
"We were not expecting to pay for it," said Miller. "We were either going to finish it or finish it in agony because we're not paying $52 for a pizza."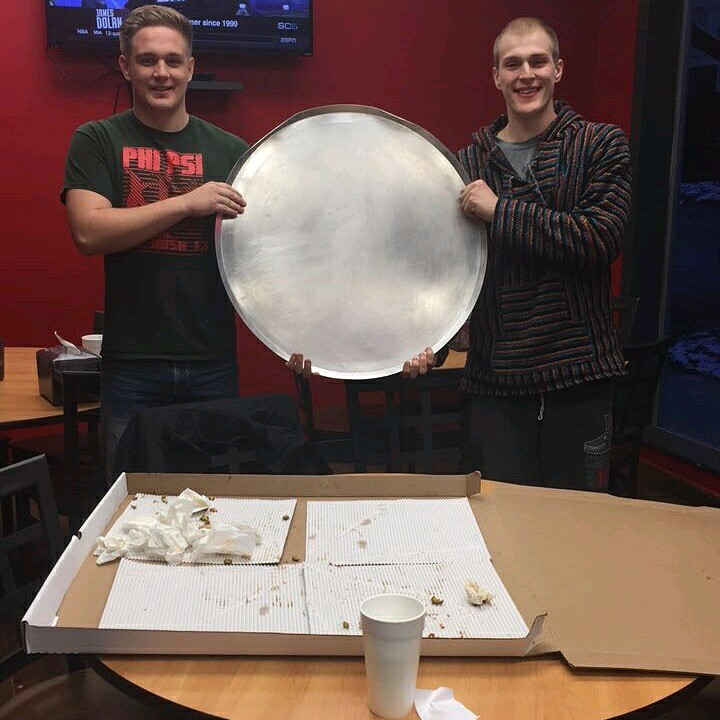 Although Graehling's strategy was to eat as fast as he could, Miller soon realized that the challenge wouldn't be that simple.
"It started off nice and fun," said Miller. "It's like 'look at all this pizza, it tastes really good, the slices are big, I'm just eating all this pizza.' [That's] until you get to about the third slice. Then you're like 'Oh, I feel like I'm really full.'"
The two realized near the end of the challenge that they needed to work together in order to complete the challenge.
"I finished my fourth piece and Dane looks over at me, tears his piece in half, and gives me half of his," said Graehling.
While the challenge may have sounded like a lot of fun, some who were in attendance weren't as amused as others.
"The owner was really excited about it," said Graehling. "Everyone else seemed kind of disgusted."
Graehling and Miller said they found out the consequences of eating the pizza in record time as soon as they returned home.
"I just went to bed at seven and woke up at seven," said Graehling.
For Miller, the side effects of competing in the challenge weren't quite as bad.
"I didn't feel very good, but I'd say after a couple of hours…I was pretty much normal, except for feeling all of the jalapenos, said Miller. "My stomach was warm for a while, so other than that, it was fun. I didn't feel too bad."
Although Miller said he would not do another Big Kahuna Challenge, Graehling said he would be interested in a different eating challenge.