Muskingum University Student Senate's Executive Board has a new look after some shuffling atop the student government.
Muskingum Sophomore Lucas Lloyd moved up to the Executive Board President while junior Logan Hall moved to the Executive Vice President position.
Muskingum first-year and former Organizational Representative, Joshua Cordell, became the new Executive Board Treasurer because of the change.
Lloyd said he is excited to now officially be the Executive President of Student Senate.
"I am glad to have taken the office of Executive President," said Lloyd. "I really love Student Senate and love the direction that we are going with it."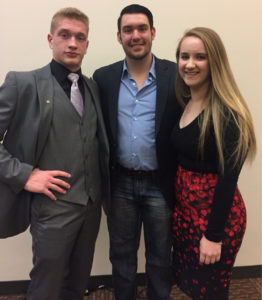 Lloyd said his previous experiences in Student Senate have helped prepare him for his new position.
"As Executive Vice President, I learned a lot about being a leader and serving in a leadership role," said Lloyd.
Cordell said he feels "quite honored" to have been elected to the position of Executive Treasurer.
"The sense of honor that I've received from this transition into my new position comes from the nominations of my fellow senators," said Cordell, who also received a nomination for the Executive Vice President, to which he "respectfully declined."
One skill Cordell said he learned prior to being elected Executive Treasurer was how to be patient.
"I most often will sit back and observe the opinions and perspectives of my fellow senators and as a result, have learned to be patient with them," said Cordell. "…by being patient and hearing my peers out, we will most certainly reach the best conclusion."
Lloyd had been the interim Executive Board President for most of the spring semester since former Executive Board President Jason Schaumleffel's departure. In that time, Hall was the interim Executive Vice President until officially being elected to the same position.