Muskingum University's 171st Undergraduate Commencement was held Saturday, May 7, 2016 in the Anne C. Steele Center. Commencement Speaker Henry D. Bullock '77 addressed the Class of 2016. Bullock and Terry M. Holcombe received Doctor of Humane Letters honors before the presentation of diplomas.
Bullock encouraged Muskingum graduates to "don't look back" when making lifetime decisions. "Go with passion. Attack it with a positive attitude, and if you do that, then that major decision is likely to work out."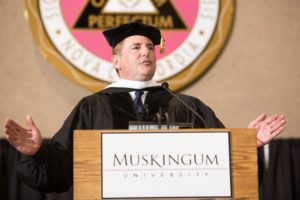 Bullock is a distinguished entrepreneur whose business acumen has helped shape advanced technology economic development through his initiatives in the Silicon Valley region and throughout the states of California, Oregon, Washington, Arizona, and Texas. A member of the Muskingum University Board of Trustees since 2004, Bullock recently announced a $10 million planned gift to the university for the future construction of Henry D. Bullock Hall.
Holcombe is a distinguished expert in advancing poverty-stricken communities and institutions of higher learning across our nation and around the globe. He has served as Yale's Vice President for Development and Alumni Affairs. During his tenure, Holcombe helped shape Yale's future by guiding two history-making capital campaigns and serving as an officer of the university in the administrations of six Yale presidents. Holcombe has served as an advisor to the Muskingum University Board of Trustees and President Anne Steele since 2000.
Senior Class Representative Taylor Little '16 addressed his classmates and Professor Lisa Marshall '03 charged the new graduates on behalf of the faculty. Chairman Hal Burlingame '62 congratulated members of the Long Magenta Line on behalf of the Board of Trustees and encouraged graduates to keep the bonds alive created with fellow Muskies.
Burlingame recognized Dr. Anne Steele's "17 years of superb and transformational leadership as president of Muskingum University" by granting President Emerita status. She is retiring on June 30, 2016. Watch complete video from the ceremony on YouTube.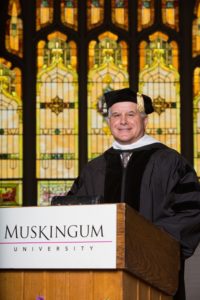 The morning Baccalaureate service at Brown Chapel featured Frank Festi, Jr. '75. Festi is Executive Principal of Rea & Associates and is a dedicated volunteer leader on behalf of education, the arts, community service, and economic development.
He earned his Bachelor of Arts degree from Muskingum and is a Certified Public Accountant and Certified Financial Planner. He has led his professional colleagues as a past member of the board of directors of the Ohio Society of CPAs.
In recognition of his lifetime of work, Festi was granted an honorary Doctor of Humane Letters degree during the Baccalaureate service.
Alex Arnold '16 presented a scripture lesson and Taylor Little '16 gave a collective prayer to his classmates. The Muskingum University Concert Choir performed "Hark! I Hear the Harps Eternal."