"A Call to Service: A Remembrance" will be hosted by Muskingum University on Dec. 8 at 11 a.m.
The service will be in place of the regular Thursday common hour Chapel Service and will be held in Brown Chapel. The special service commemorates the 75th anniversary of the Pearl Harbor bombing and is free and open to the public.
Annie Castor Glenn was a senior at Muskingum University in December 1941. Her senior organ recital was set for Dec. 7 and the story goes that her soon to be husband, Sen. John Glenn was on his way to the performance when he heard about the World War II Pearl Harbor attacks.
It was that moment that solidified Sen. Glenn's decision to join the war efforts, though he didn't tell Annie his plans until after her recital was over. Glenn's decision to volunteer for the war effort was the beginning of a lifetime service to the nation that he and Annie would share. He would go on to serve as an astronaut, a United States Senator, and as a presidential candidate. Annie later served as an advocate for those with communication disorders.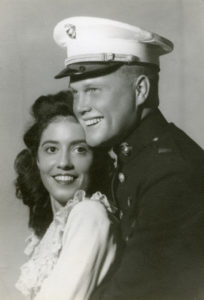 To recall the significance of that day for both the Glenns and the United States, Muskingum University Chaplain Reverend, Will Mullins, will conduct the remembrance service.
Though the service begins at 11 a.m., Out of Silence: The Annie Glenn Story, will be shown at 10:30 a.m. The service will feature several speakers, a prayer, a folding of an American Flag by the 911th Air Reserve Wing (Pittsburgh) Color Guard, and playing of Echoing Taps. Organist Dixie Heck and the Muskingum Chamber Singers will lead the hymnody, including a rendition of "This Is My Song," set to Finlandia by Jean Sibelius, which was one of Annie Castor's 1941 recital selections and one of Sen. Glenn's favorites.
Names of all Muskingum University students and alumni who perished in World War II will be read during the service.
The service will be live on WMCO 90.7 and can be streamed on OrbitMediaOnline.com.
Orbit Media will also be streaming live video of the event, available on the Periscope app, which can be viewed on the Orbit907News channel.