New Concord Village Council passed a motion at their last meeting allowing the rebuilding of a bridge that was installed over twenty years ago.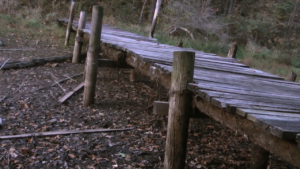 Located near the Upper Reservoir on the west end of New Concord, this bridge allows access over an inlet that would otherwise force people to walk around the entirety of it when the water levels are high.
The bridge was originally installed as a Boy Scouts of America project and now Boy Scout Troop 510 is taking over the updating.
New Concord Village Administrator, Charlotte Colley, said that the bridge is definitely in need of work. 
"It's been there a long time, it needs maintenance, it's falling apart, it's really not safe," said Colley.
They are working with Guernsey-Muskingum Electric Cooperative Inc., as they are donating old telephone poles that will act as the structure base and polls of the bridge.
Troop 510 has also worked on getting a bid for the remainder of the project from Lowe's Home Improvement store.
As for labor for the project, the troop has several fraternities from Muskingum University lined up for help.
Due to budget concerns council is hesitant to spend that amount of money near the end of their fiscal year.
The compromise that council came to on their Oct. 24 meeting was to have the Boy Scouts in cooperation with Guernsey-Muskingum Electric Cooperative Inc. put in the base of the bridge structure before it gets too cold and tackle the rest of the project in the winter or spring once the new fiscal year begins.