The New Concord Fire Department (NCFD) purchased a new Gator to replace an older model that was previously used.
NCFD received the Gator in December from the New Concord Firemans Association, who raised over $20,000 throughout the course of the last four to five years during the summer Firemans Festival held in New Concord.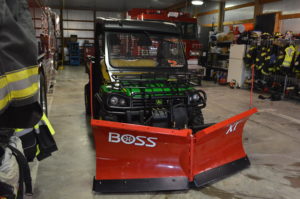 New Concord Fire Chief, Brent Gates, said that the new Gator will enhance NCFD to be better equipped to deal with snow plowing and emergency uses like EMS off road calls, oil spills, and brush fires. The new Gator has a snow plow, four wheel drive, a bigger bed, and it has the ability to pull a trailer.
Gates said the NCFD is on Interstate 70 almost once a month, cleaning up oil spills and that this Gator will help make cleaning oil spills more efficient.
"It's amazing," said Gates.  "Sometimes our scene may be a half mile long. We park our trucks and once we can't move them, we're walking a mile in both directions. We'll bring this Gator up, because the Association bought a trailer for it too, and we can move our equipment back and forth so we can get the spill quickly done [and] open up the Interstate quicker."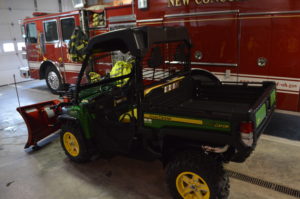 Gates said that the Gator has only been in use for plowing snow so far, but will be used more during the spring for brush fires and other emergencies. NCFD has also applied for a grant from the Ohio Department of Attribute Sources for a unit for the bed of the Gator that will include a water tank to do off-land wildfire fighting.