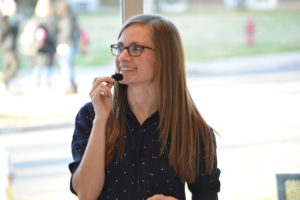 The final Library Author Talk of the semester welcomed author Kate Hoefler and her children's book, Real Cowboys. Her talk was presented Nov. 17, to over 50 Muskingum University students, faculty, staff, and community members gathered in the Roberta A. Smith Library.

Real Cowboys is Hoefler's first children's book and she released it earlier this year on Oct. 9.  The book is centered on the idea of what a "real" cowboy was, which includes being safe, being gentle, that they are an artists, and that some are female.  The book was illustrated by Jonathan Bean.
For Hoefler, she wanted to give the reader a different idea of what a cowboy could be like.
"It's that kind of good will and gentleness that occurs when nobody is watching and that's what these cowboys are doing," said Hoefler.
Hoefler started on the book three years ago, and explained that it was a process to create. After she wrote the story and went through the editing process, there were numerous steps that her and Bean went through to combine her words with his illustrations. Hoefler showed numerous examples of the book dummies and sketches created by Bean to the crowd.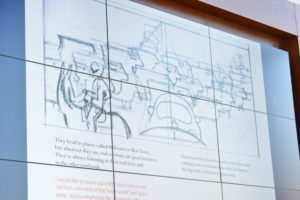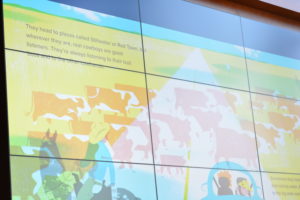 "That relationship between author and illustrator [is important], you are equal artists. He's going to tell half the story, not 'he illustrates my words'." said Hoefler in her Author Talk.
Hoefler is currently the Project Manager at Ohlinger Publishing Service, but was the former Circulation Supervisor of the Muskingum University Library. She said it was nice to come back Muskingum and the library.
"It was great. I think just like returning to writing picture books  and writing for children, that was kind of a return to me," said Hoefler "This was also a return to come back to Muskingum and to see so many faces and people I knew, even to be in this place because I worked in this building, it was just wonderful."
Hoefler also said that it was heartwarming to see a variety of people connecting with Real Cowboys.
"[There's] this quality of human connection in picture books that is global and I love that I get to see that kindness outside of what is just in the book and I get to see children connecting with it, connecting with the idea of kindness," said Hoefler.
Hoefler has her second children's book coming out in the fall of 2017, titled Great Big Things.