This article was originally published March 2, 2015.
Muskingum University lost a professor, director, and mentor when Visiting Assistant Professor of Theatre, John Kuhn died suddenly on Feb. 28.
Kuhn was affiliated with the university over the years since his first production at Muskingum, "La Ronde," in 2000. He was hired full time in the Communication, Media, & Theatre Department for the 2014-2015 academic year after serving as a part-time faculty member and directing various productions.
"We were looking forward to a continued affiliation with the [Kuhn and Muskingum] University," said Chair of Communication, Media, & Theatre Department, Gene Alesandrini.
Muskingum University Associate Professor of Communication & Theatre, Ron Lauck had worked with Kuhn since Kuhn's first production at Muskingum.
"He's always been the guy that's picked up the slack in the department when someone was on sabbatical, when were short an adjunct, he was always there," said Lauck. "He's just a real stalwart individual and always did such a great job filling in."
Kuhn left an impact on his colleagues as well as many of the students he taught and directed.
Sophomore Olivia Brown participated in five productions directed by Kuhn including "Almost Maine", "Company", "Oedipus Rex", and most recently, "Words, Words, Words!" She was also part of the current production Kuhn was directing, "Bye Bye Birdie."
According to Lauck, the production will continue.
"John would be terribly disappointed if it didn't. So the show goes on," said Lauck. "One of the things that is sometimes hard for people to believe is that we're not indispensable, and theatre especially proves that over and over again that the show will go on, with or without you."
Bye Bye Birdie will open April 16 as scheduled under the direction of Alesandrini.
According to Alesandrini, the production will be dedicated entirely to Kuhn.
Brown said she hopes to continue with theatre, following the path he set for her.
"I can only pray that I will live in a way that will honor his memory, that I will continue with theatre and live up to the potential that he saw in me," said Brown.
The Lasater Funeral Homes in Mount Vernon, Ohio will be handling Kuhn's arrangements.
Counseling Services and Muskingum University Chaplain Will Mullins are available for students experiencing grief.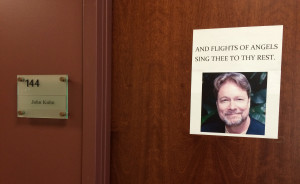 Next: The Black & Magenta March 6, 2015 issue honoring John Kuhn.