This fall, there is an additional sand volleyball court available to students on the East Hill of Muskingum University's campus.
The sand volleyball court is located near the stairway and lower level entrance of the Walter K. Chess Center and open to all Muskingum University students.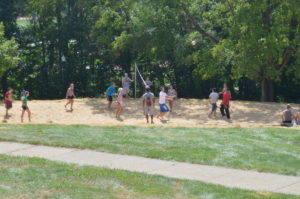 The funds for the sand volleyball court came from the Capital Growth Fund, which is a pool of money that has been collected over the last few years. The previous Student Senate Executive Board wanted to spend the Capital Growth Fund on student oriented projects  and so they created the Big Idea Box.
"Our [Student Senate's] first big task was to find appropriate spending for the Capital Growth Fund [last year]," said Student Senate Secretary, Audi Hutton. "We told our senators to talk to their contingencies, they came up with various ideas that they spoke to and thought were the most liked and the volleyball court on Patton Hill was voted number one so we ended up going with that decision."
Through the Big Idea Box, Student Senate asked students what they wanted to do with the Capital Growth Fund and the sand volleyball court was one of the top 3 answers. Hutton said that having a second sand volleyball court will with help with intramurals, as well as allowing upperclassmen to not have to travel to the Memorial and Moore volleyball court on the West Hill to play.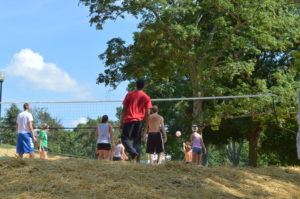 The building of the sand volleyball court started in mid-August and is now able to be used by the student body. Director of Recreation and Campus Activities, Deven Siesel, said that the Walter K. Chess Center is a good location for the volleyball court.
"I think it was a great addition to campus," said Siesel. "The location was pretty ideal. It moves the sand volleyball court away from the halls enough that students can play it a little bit later at night and not disturb those who might in a hall trying to study."
Group or organizations are able to reserve the court, but have to contact Siesel. Mainly, the court is available  on a first come-first served basis.Students can sign out volleyballs from the Chess Center front desk.
Sept. 10 will be the first intramural volleyball tournament that uses both volleyball courts. At least four people are needed on the roster, but you can have up to six.