New Concord residents now have another option when deciding what to eat.
Scott's Diner opened its doors for the first time on Tuesday, Nov. 22 on 41 East Main St. in New Concord.
Keith Scott, the owner of Scott's Diner, said his family was an inspiration when opening his restaurant.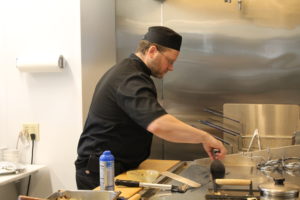 "I grew up in [the restaurant business], I've always been in it," said Scott. "Opportunity came to get our own restaurant and timing was right. It's a way for us to continue the family legacy."
Scott's grandparents are the owners of Mr. Lee's restaurant in Cambridge.
Scott said the reason he chose New Concord to start a restaurant is its location and timing.
"I've always liked New Concord," said Scott. "I always thought this would make the perfect little diner. I think the village needed it."
Scott said the lack of a sit-in diner in New Concord was another reason he decided to start a restaurant.
"We want to provide good service to the village," said Scott, "We want to be the village diner. We want to be a part of the community."
Scott graduated from Zane State College's culinary program in 2008 and has worked at his grandparents' restaurant since he was 16 years old. He also runs the restaurant with his wife Alisha.
Scott said the diner offers traditional dishes with a modern twist.
Scott's Diner is open Tuesday through Sunday from 6 a.m. to 3 p.m. and is closed on Mondays. The diner can be reached at 740-801-1730.