Muskingum University business seminar students are set to host "Muskingum University Networking Night" March 27.
Students are advised by Assistant Professor of Business Kristine Pray, and Associate Professor of Business Gary Golden.
Golden said the students in the seminar classes have done everything, from planning the event to advertising and hosting it on their own.
"It makes me feel great," said Golden. "I hope to make it an annual thing. I think it's a good project. It forces the students to work in teams and collaboratively… I'm as happy as eating apple pie."
Golden said he isn't the only one who is excited for the event, as the seminar students themselves have been anticipating the event as well.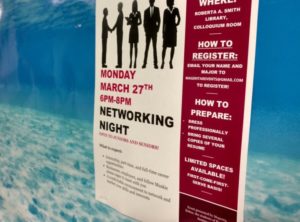 "They've really had a great attitude and a work ethic in making this happen," said Golden. "It's benefiting themselves, it's benefiting the recruiters, it's benefiting the university, it's benefiting other students. It's win-win-win all the way around."
Golden said although the event is organized by business seminar students, anyone can attend regardless of major.
"Frankly, a lot of our successful alumni have been majors outside of our department," said Golden. "History majors, English majors, art majors, the science majors… there will be a lot of opportunities for them, so yes, it is open to all majors."
The event will take place from 6 p.m. to 8 p.m. in the McCalmont Colloquium Center of the Roberta A. Smith Library, featuring both job recruiters and Muskingum alumni.