The Louis O. Palmer Art Gallery held an exhibit for hand-selected Southeastern Ohio artists that led to a hands-on demonstration.
The artists whose works were featured in the exhibit, were selected by Yan Sun, Muskingum University Professor of Art.
"I want to give my students the best," said Sun. "Anyone can give a lecture, but I select the best."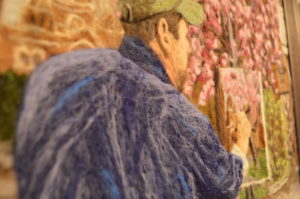 According to Sun, there were 30 artists who contributed approximately 40 different works of art with varying types of media, some of which included felt work by Jane Evans.
Evans owns sheep and uses their wool for her artwork. She hand-washes the wool, dyes it any color she needs, and pulls it into malleable strands that she can then pluck into her canvas using a needle.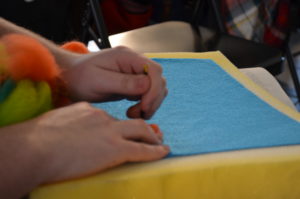 Sun scheduled a lecture and demonstration for his Introduction to Art class on Wednesday, Feb. 1. Sun said by providing the students with fresh artists is a way to expose them to the world of art.
"I want them to understand visual art," said Sun. "I want them to look far away, not just on the campus, but I want the students to look farther than this community or this country as well as all of the world."
The students were given pieces of fabric and used small needles to prick the wool into the fabric.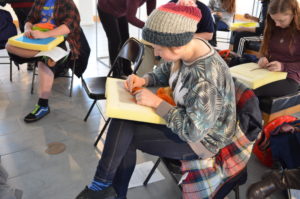 Evans explained the history behind this process. In factories, a machine held hundreds of tiny needles that would string the felt through the fabric. One day, someone got the idea to take out one of the needles and create more delicate creations.
Evans said she uses her life on the farm as her main source of inspiration.
The exhibit is open Monday-Friday starting at 9:30 a.m. until 3:30 p.m. and on Saturday and Sunday from 1:00 p.m. until 4:00 p.m.
See more on the Orbit TV YouTube Channel.