Muskingum University Class of 1977 graduate, Kim Ronald Smith, encouraged the Class of 2020 to find themselves during their journey at Muskingum University during Opening Convocation on August 30.
"Really think about your purpose," said Smith. "Why are you here? Why did you choose Muskingum?"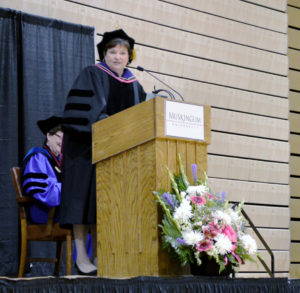 Smith, who is of counsel for the law firm Barley Snyder in Pennsylvania, spoke to approximately 450-500 students and faculty members as guest speaker at the event.
Smith began by having students use their phones to take a selfie during Convocation.
"I would like for you to…save that picture because today it symbolizes a new chapter in your book of life," said Smith, "Remember this day. It is a turning point."
Smith said the selfies taken by students will serve as a reminder of where their journeys began.
"My hope is that by saving your selfie, you will remember that today marked the start of your Muskingum career," said Smith.
Smith said despite the fact many students might not remember the bulk of her speech years from now, they should at least walk away with three main points.
"Embrace this time. Identify your purpose in being here. And make it meaningful," said Smith.
Smith said the Class of 2020 has been saturated in violence, politics, and other events in their lives because of social media.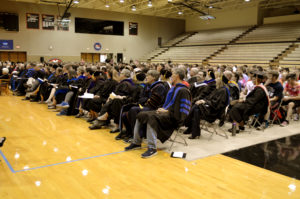 "You have experienced senseless, mind-numbing attacks in our country and around the world," said Smith, "Thanks to 24/7 access to news, you have been exposed to death and violence on a daily basis, begging the question, of whether your perception of safety and security and mortality may have been skewed."
Smith added that despite these events, there will be more like them to come in the future.
"We can only speculate and imagine what the next four years will be or what you will experience over your lifetime," said Smith.
Smith said students shouldn't be afraid of exploring their surroundings during their time at Muskingum.
"Ask yourself this: How can I take full advantage of the experiences and the opportunities that Muskingum has to offer," said Smith, "How will I broaden my world and expand my thinking? What can I do to impact and transform the world in big or small ways?"
Smith graduated from Muskingum University with her Bachelor of Music degree magna cum laude in 1977. Smith received her Master of Arts degree in Higher Education Administration and Counseling summa cum laude from The Ohio State University.
Smith earned her Juris Doctor degree magna cum laude from Temple University School of Law.
Before beginning her law career, Smith served as Associate Dean of Students for Muskingum University.