WMCO DJs will be celebrating a bi-annual tradition, finals weeks shows Monday, Dec. 11-Thursday, Dec. 14.
Finals week shows allow our DJs to play their own music in the studio and talk about what they find the most interesting.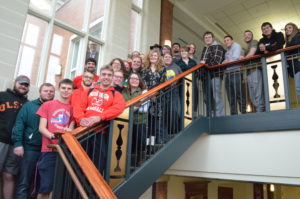 Students generally have played a variety of music such as country, Christmas, pop, rock and more. Shows run Monday-Thursday from noon-8 p.m.
Finals weeks shows are also a start and an end for some of our DJs, as for some it will be their first time making their own show and for others who are graduating it is a way to celebrate the end of their college radio involvement.
You can listen live for our DJs on 90.7 or stream it on OrbitMediaOnline.com. See the week's schedule below.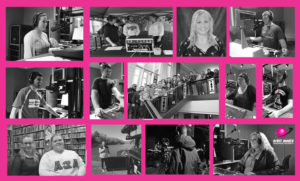 Monday, Dec. 11
noon-2 p.m. | Logan Weaver & Rachel Schlarb – Today's Hits
2-4 p.m. | Brice Lillibridge – Alternative-Rock & Pop
4-6 p.m. | Brie Rhoades & Emily Summers – Favorite Tunes
6-8 p.m. | Radio Joe Scott & Logan Weaver – Movie Talk & Today's Hits
Tuesday, Dec. 12
noon-2 p.m. | Logan Weaver – NASCAR review
2-4 p.m. | Jonnie Neuhart & Christy Bever – Rock
4-6 p.m. | Kain Conley – Music Mashup Mayhem
6-8 p.m. | Brie Rhoades & Christy Bever – Country & Classic Rock
Wednesday, Dec. 13
noon-2 p.m. | Ashley Glazer & Logan Weaver – Celebrity Gossip & Pop
4-6 p.m. | Dana Davis & Emily Summers – "The Aftermath"
6-8 p.m. | Manda Gaeckle & Brie Rhoades – Pretty and Punk
Thursday, Dec. 14
noon-2 p.m. | Brie Rhoades & Dana Davis – Hottest Mixtape
2-4 p.m. | Mac Burton – Scary Rock Music