Students of Muskingum University were invited to the Terra Cotta Vineyards in New Concord from 6 p.m. to 8:30 p.m. on Oct. 3.
"Nibbles and Sips," a wine tasting event open to students 21 years and over, provided an opportunity to network and socialize with Muskingum's alumni, faculty, and staff.
"It's always a popular event, and I feel like students really enjoy it and learn a lot from it," said Jackie Vascura, Director of Career Services. "It's an opportunity for them to kind of grow and learn to be that professional even if alcohol is present."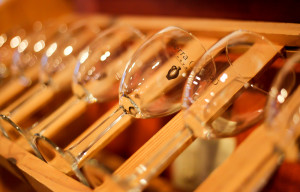 The event was organized by the University's Alcohol Awareness Program, which is part of the Student Affairs division.
Students were able to sample four varieties of wine paired food that complemented the wine. Terra Cotta's winemaker and co-owner, Paul Roberts, said that there are about 14 varieties of grapes that are grown during the season, the sweeter wines, such as the Concord and Niagara, are some of the best selling ones.
Paul and his wife, Donna, desired an early retirement in the 1990s which led to the opening of the vineyard.
"We got interested in it by touring Ohio wineries, and I was wanting to do an earlier retirement and do something else," said Roberts. "We bought the property here and Kansas State University had it for sale. This is [a] high elevation [area] which is good for grapes."
The vineyard holds various events throughout the year including bridal showers and private chef dinners.
Jessica Edge, Coordinator of Student Involvement, prepared all the food that was available for the event.
The foods were strategically paired for the wines that were being shared.
"At the end of the day, what you like with wine, is what you eat with wine," said Edge. "If you like Oreo cookies with your wine, then Oreo it up, it's all about your own taste."
Wines are meant to be paired with foods that provide a balance between salty and sweetness.
"You don't want to have very sweet things with very sweet wine, you want to find things that kind of balance [each other]," said Edge. "For example, the white [wine] that had some citrus notes to it, [foods] that were honey based go very well with that."
This year's event was attended by about 50 students from the university.