If you were one of the millions of people watching the 59th annual GRAMMY Awards, you may not have noticed the many famous artists you saw who were first heard on college radio.
The GRAMMY Awards are for the biggest and brightest musical stars of every category of music coming together for one night. It's the one time each year where genres of music get blurred, collaborations between acts you didn't think possible happen, and artists get recognition for the time and effort they put into the music we listen to every day. It's a special event for music everywhere.
Before this year, I haven't paid all too much attention to the GRAMMYs. I would watch specific performances by my favorite artists the next day, but I never cared too much. That changed this year.  Although I come from a background of classic rock and newer country music artists, my musical appreciation and knowledge has changed and grown over the last four years since becoming a WMCO DJ. I appreciate the eclectic taste of "new music" that comes through the station on a weekly basis.
This year I tuned in specifically waiting for Keith Urban and Carrie Underwood's duet on The Fighter, but I continued watching because I knew many of the artists for one reason…I first heard them on WMCO.
Whether you watched the GRAMMYs for the winners, the speeches, the comedy, or the performances themselves, there is one undeniable thing…college radio's influence was all over the show. Here are just a few of the many examples from the best night in music (and excuse me if I miss a few!).
Son of the reggae legend Bob Marley, Ziggy Marley, won another GRAMMY for Best Reggae Album with his self titled CD. We had his album in the studio last fall.
Columbus based band twenty one pilots took the stage in their underwear, telling the story of their origins when they won Best Pop/Duo Group Performance.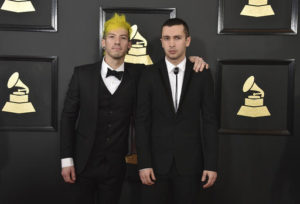 Rock icon David Bowie posthumously won four GRAMMYs including Best Rock Performance and Best Alternative Music Album for the album Blackstar. Even more familiar artists like Bowie, Neil Young, and the Rolling Stones have sent in their newer albums to college stations to gain a new generation of fans.
Lukas Graham, who was nominated for many awards like Record of the Year and Song of the Year, performed with Kelsea Ballerini. WMCO received Lukas Graham's debut self-titled album in early 2016 and it's produced numerous hits including 7 Years and You're Not There.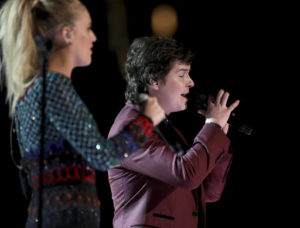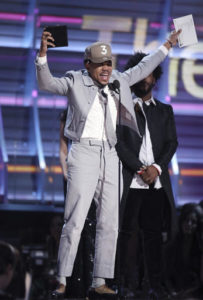 Another big winner for college radio was rapper Chance the Rapper. Nominated for seven awards, Chance won three GRAMMYs for Best New Artist, Best Rap Performance, and Best Rap Album for Coloring Book. The artist who brought the GRAMMYs to church with his performance of How Great and All We Got hasn't sold his music but has promoted it through college stations like ours.
Finally, we couldn't talk about artists who made it big after college radio without talking about Adele. Not only did Adele open the GRAMMYs and make headlines by starting over her tribute song to George Michael, but also shocked the viewers by winning five (yes, you read that right!) GRAMMYs for Record of the Year, Song of the Year, Best Pop Solo Performance, Best Pop Vocal Album, and of course Album of the Year.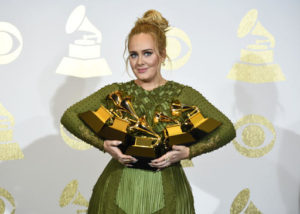 College radio is all about the new music. It's a great way for up and coming artists to promote their music. It's a launching pad for these artists to hit the Top 40 charts.  It's a different breed of radio, too. There's no genre or style of music that we don't play. If anything proves this, I think this year's GRAMMYs did.  Watching the show gave me more perspective as a college radio DJ and that what we do is important.  While we have the luxury of hearing the music first, we also have the responsibility of starting artists' careers and that is huge thing.
To put it in perspective, three of the five Record of the Year candidates were played on WMCO (60%!!!). Additional nominees and winners from the night first heard in college radio include Cage the Elephant, Alabama Shakes, Gallant, Iggy Pop, and Kanye West. There are countless college stations like ours that do exactly what we do.  If you are a new artist, you can send your music to us at the address below:
WMCO Music Department
163 Stormont Street
New Concord, OH 43762
Or email wmcomusicdepartment@gmail.com for more information.
Listen to this week's new episode of "Something Old, Something New" with Olivia Brown and Brad Roberts Friday at 9 a.m. and noon where they will discuss and play the music of featured GRAMMY nominated artists who were discovered on college radio stations like WMCO.