The Ohio Theatre Alliance (OTA) hosted the annual North Central Regional Auditions auditions on Muskingum University's campus Saturday, Jan. 14 and Sunday, Jan. 15.
Over 450 student actors, technicians, singers, dancers, and performers alike attended this event, traveling from all over the country for a 90-second audition in the Sandra Wolfe Thompson Theatre.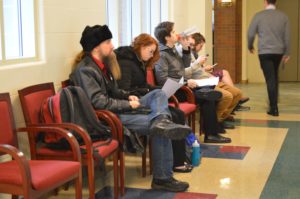 According to Jerry Martin,  President of OTA, this is an important opportunity for students who are serious about their talents and want to further their careers.
"They are at a point in their careers where they are ready to play for keeps," said Martin.
Some students are looking for seasonal jobs, while others are looking at year round work with theater companies.
The students sign in at 6 a.m. and then their day begins. They are given songs, choreography, and dance numbers they have never seen before and have an hour to practice, then they perform in front of the ten to twenty producers waiting to hand select the students they want for their productions.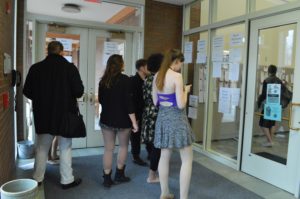 According to Martin, only half of the students who audition get call backs. Although, some students are on their fourth or fifth year at these auditions, still trying to catch their big break.
The dancers were reviewed in Brown Chapel, where 90-115 people took the stage to spend only an hour learning the choreography that could potentially set up their futures.
"The students are kind of on their own," said Martin. "And these producers are pretty sharp at watching these dancers, they know who's had the training."
Some students days are over with by as early as 8 a.m., but some are still pulling for a callback by 11 p.m.
After the OTA event, students who made the audition cuts go to the next round of auditions and interviews which takes place in Florida in February.