Here's a look at some of the things that Orbit Media is talking about this week!
WMCO Weekend is here! We're hosting several events starting this Thursday which encompass this year's theme… "PSA: College is"! Join us on Thursday at 11:00 to hear 10TV's Dom Tiberi talk about the dangers of distracted driving. We also have campus bingo on Friday and "Ticket Truck" on Saturday, which is open to the community. Visit the WMCO Weekend tab near the top of the page to learn more!
Join Muskingum faculty and community members for a discussion on gender, femininity, and masculinity. Two separate discussions will take place at the same time around bonfires, one focusing on gender and femininity and the other focusing on gender and masculinity. The event is Tuesday at 7:00 p.m. in the Hollow.
The John Glenn High School Band is holding its 5th annual Muskie Run- 5K and Musical Mile Walk on Saturday, April 2. Check in is scheduled from 7:45-8:45 a.m. with the race beginning at 9:00 a.m. The cost is $20 per entry. Forms can be found here, or by emailing Kim Kelsey at psych1218@gmail.com.
Student tickets for Big Concert featuring Parmalee and Special Guest Chuck Wicks are available now! Login to MuskieLink to redeem one free student ticket; additional tickets will be available starting on April 4 for $20 each.
Muskingum's annual Cardboard Boat Regatta is coming up! Get together in groups of two and sign up to make a boat out of cardboard and other limited materials, and then test it in the campus lake! The regatta is scheduled for April 16 at 2:00 p.m. Sign up on OrgSync: https://orgsync.com/5329/forms/192121
Sports Preview
Baseball has a game against Wooster on Wednesday. We're calling the entire game live on WMCO starting at 3:30!
Softball has a double-header against Marietta this Saturday at 1:00 & 3:00. Go Muskies!
What Happened During the Week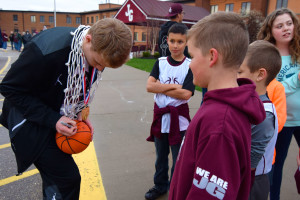 John Glenn High School's boys basketball team won their first ever state championship title last week! The entire Village of New Concord celebrated the win with the Little Muskies by throwing a community Block Party, parade, and pep rally. See interviews, pictures, & more in the full article!