Here's a look at some of the things that Orbit Media is talking about this week!
This week is International Education Week! Events include:
Global Smorgasbord – 

Monday at 7 p.m. in Finney Lobby.

 World Vision is hosting a feast with food from different countries such as India, Japan, China, France and Spain. Come on out and enjoy some international food!
Scavenger Hunt – Monday through Thursday. Enter a scavenger hunt on the Quad! Easter Eggs could hold a keychain or a paper that says you win a t-shirt, which you can bring to Brewed Awakenings on Thursday evening to pick up your prize!
International Bazaar – Tuesday & Wednesday from 9 a.m.-4 p.m. in the TOC. Come see and purchase hand-crafted items including baskets, jewelry, musical instruments, and more. Sales go to Ten Thousand Villages which supports the third World artisans creating the products.
Study Abroad Presentation and Panel – 

Thursday

 at 3:30 p.m. in Science Center 343 (Large Auditorium). Get detailed information regarding study abroad and hear from several students who have recently studied abroad at Muskingum University! Light refreshments will be provided.
On Tuesday, Nov. 17 and Wednesday, Nov. 18, students have the opportunity to get a free professional headshot photo! The photo will be from the waist up, so dress professionally. The event will take place on Tuesday from 11-noon in Career Services and Wednesday from 4-5 p.m. in Career Services.
Too Much Light Makes the Baby Go Blind is comprised of 30 different 2-minute plays in a one-hour-long show! The play, put on by Muskingum University freshmen and the Theatre Department, will show this Thursday through Saturday at 8:00 p.m., with a Sunday matinee at 2:00 p.m. in the Sandra Wolfe Thompson Theatre in Caldwell Hall.
Dining Services is putting on its annual Thanksgiving Dinner on Thursday in Patton Dining Hall. Come enjoy turkey, stuffing, dinner rolls, pumpkin pie, and other classic Thanksgiving treats!
Beyond The Headlines: University of Missouri racism protest and the journalist controversy. Listen for it on WMCO Tuesday & Friday at 11 a.m.!
Sports Preview
Tune in to WMCO on Tuesday for live coverage of Women's Basketball vs. Kenyon College. Pregame starts at 7 p.m.
Wrestling plays Waynesburg in Duals on Thursday at 7 p.m., located in the Recreation Center.
What Happened During the Week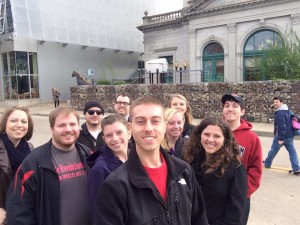 Several Orbit Media students got a chance to tour WTPS Radio Station in Pittsburgh, Pennsylvania on Saturday! These students had the opportunity to go live on-air during the Saturday Light Brigade around 10:35 a.m. Check out the full article, complete with pictures and a sound-byte of us on-air here!
Nikki's Wives, a band we currently have in the WMCO station, came by and gave us a free mini-concert & interview! We are very thankful to them and hope to have the content out this week – stay tuned!