Here's a look at some of the things that Orbit Media is talking about this week!
The New Concord Christmas Parade & Tree Lighting is tonight! The tree lighting will take place near the John McIntire Library at 6 p.m. and the parade starts at 6:30. Orbit Media will be there the entire time, so make sure to tune in to WMCO (90.7 FM) for live coverage & keep an eye out for video footage on Orbit TV (Channel 96-204)!
The Southeastern Ohio Symphony Orchestra is performing their annual Holiday Concert on Thursday. The concert is in the Secrest Auditorium in Zanesville and starts at 7 p.m. Admission is free.
"Home for the Holidays" is a free concert on Saturday in Brown Chapel starting at 7 p.m. The concert features the Wind Ensemble, Concert Choir, Choral Society, & more and will include holiday music!
Want to have your event read on WMCO & featured online? Submit it to our Community Calendar! Sumbit an event
Sports Preview
Women's Basketball plays Marietta on Wednesday. Head to the Rec. Center at 7:30 p.m. to support the team!
The Men's Basketball team goes up against Heidleburg on Saturday at 3 p.m. in the Rec. Center. WMCO has the call at 2:30!
What Happened During the Week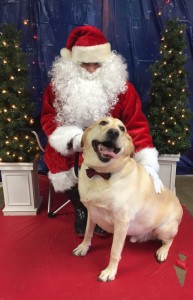 The New Concord Bark Park hosted Pet Holiday Photos with Santa. Donations went toward a fence for the new dog park. Stay tuned for more pictures!
Thanksgiving Break was last week! News stories & picture galleries went up over the break, so make sure to check them out right here on orbitmediaonline.com!