Muskingum University President Anne Steele sent out a campus-wide email Friday afternoon asking the Muskingum community to "to pull together as a family" in light of a deceased baby found at 125 Lakeside Drive Wednesday night.
The university-owned residence currently houses members of the Delta Gamma Theta sorority.
Steele says "there is nothing more heartbreaking than the loss of a new life."
It is still unknown if the birth was live or still, and the gender has not been released.
The body of the newborn was sent to the Licking County Coroner's Office for an autopsy, which, according to the coroner's office, was to occur Friday afternoon.
Steele tells the university to find strength in the core values promoted at Muskingum, which include compassion, integrity, and empathy.
Steele says she is making herself and other members of senior staff available to students, faculty, and staff for questions and concerns.
"We are here to support you in any way we can," says Steele. "We will come through this together.
Steele did mention because the subject is still under police investigation, she is not at liberty to comment on any facts.
Students on campus are coming together in support for one another by signing a banner that says "Greeks Stand Behind ΔΓΘ."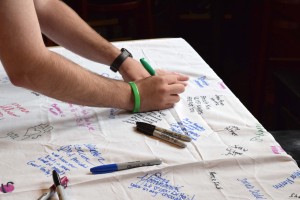 A fraternity member involved in the signing says "everything was so dark last night. We just wanted to do something for them so they didn't feel helpless."
Members of the Greek Community were asked by the Muskingum University Greek Council to wear green for Delta Gamma Theta today.