The New Concord Reservoir was recently under construction. The upper reservoir now features a playground dedicated to the late John Morrow and Donna Newberry.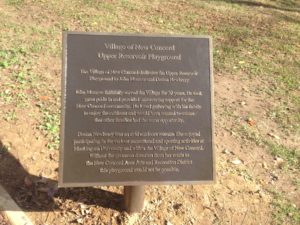 Morrow spent 30 years as the New Concord Village Operations Manager and died in August 2015. Newberry was the Muskingum University Womens Softball Coach and was a coach at Muskingum for 36 years.
The dedication ceremony for the playground was on Oct. 24 at 4:30 p.m.
New Concord Village Administrator, Charlotte Colley, said that Newberry left money to the New Concord Area Arts and Recreation District (NCAARD) for "recreational opportunities in the village."
The village received a grant from the Zanesville-based Rogge Foundation that covered half of the total equipment cost.
The money that Newberry left to NCAARD matched the amount the foundation gave.
New Concord Village and the New Concord Board of trade supplemented additional funds for the project to be completed.
Children were welcomed at the dedication ceremony and encouraged to try the new equipment following the unveiling.
"Based on all the noise I heard from the youngsters on all the playground equipment I'd say it was very successful," said New Concord Mayor, Brett Essex, at the Oct. 24 Village Council Meeting.
Colley and Essex are both pleased with the attendance at the playground.
"It was a really nice night and we had a great turnout," said Colley.
The New Concord Reservoir is located off of Shadyside Dr. on the West end of town.