William Myers, a 69-year-old auxiliary officer with the New Concord Police Department, was honored at the Jan. 9 Village Council meeting for his 25 years of service.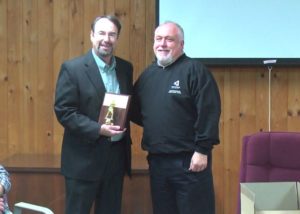 Myers first worked for the Cambridge Police Department before joining the force in New Concord in 1992.
New Concord Mayor, Brett Essex, said that Myers has been a hardworking member of the auxiliary unit.
"He has been very diligent in working the traffic control for our parades, events, ballgames, and all the exciting things that get to take place in New Concord," said Essex.
According to Essex, Myers has been in law enforcement for 45 years and "that's a very long and dedicated service."
"We felt valued to have you in our village," said Essex.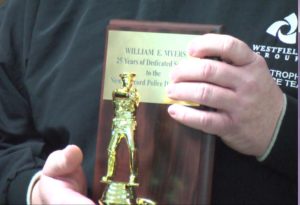 Despite his moving out of the village limits to Cambridge around four years ago, Essex said that Myers was still "local in our hearts."
Myers was fond of working in the village and with the people that call it home during time with the department.
"I enjoyed working with the people of New Concord," said Myers.
Police Chief, Trevor Hayes, said that Myers played a big role in shaping his time with the New Concord Police Department.
"Thank you for everything you've done," said Hayes. "You've been a good influence to me as I've grown up here at the department."
Myers feels that the time is now right for his retirement with his 70th birthday coming in July.
"I hate to give it up and I hate to leave, but I guess the time has finally come," said Myers.
Essex told the people in attendance at the council meeting of his first encounter with Myers.
Essex said that he was in high school when he heard that Myers owned his dream car, a 1955 Ford Thunderbird.  
Essex said it was that moment that he felt he had to go and introduce himself to Myers.
"I thought this is the coolest guy I've ever [heard of] and I've got to go meet him," said Essex.
Essex ended the small ceremony echoing Hayes' earlier statement and calling Myers a good role model over his many years of service.