The mother of the baby found dead at Muskingum University this spring could spend life behind bars after being charged with aggravated murder.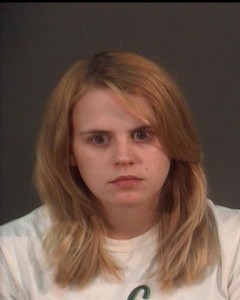 The Muskingum County Grand Jury found that Emile Weaver, 20, of Clarington, Ohio purposely caused the death of her newborn girl on April 22. Weaver is also charged with gross abuse of a corpse and two counts of tampering with evidence following a secret indictment Wednesday morning. All are felony charges.
If convicted, Weaver could maximally face life in prison with no parole for aggravated murder, one year in prison for gross abuse of a corpse, and three years in prison for each count of tampering with evidence.
Weaver is currently in the Muskingum County Jail on one $1 million bond. She is scheduled for arraignment at the Muskingum County Common Pleas Court next Wednesday at 11a.m.
Muskingum County Prosecutor The Hon. D. Michael Haddox said the baby died of asphyxiation after being tied in a trash bag. The body was found later that night outside the university-owned Delta Gamma Theta sorority house on Lakeside Drive.
Haddox said the father was identified, but could not confirm if he knew he was the father at the time. Haddox said it took three months to identify the father due to a lengthy DNA testing process.
Following the autopsy at the Licking County Coroner's Office, Muskingum County Coroner Charles Feicht said Weaver was an estimated 38 weeks pregnant, near full-term, at the time she gave birth.
Haddox said there were others in the house at the time Weaver gave birth, however he said they will not likely be charged.
Muskingum County Sheriff Matt Lutz said the estimated nine girls inside the house the night the corpse was discovered were taken to another location on campus for questioning with detectives and Sheriff's deputies.
The mental state of Weaver was not taken into account for the indictment according to Haddox, but he says it could be part of the case at trial.
Muskingum University is not issuing a statement at this time.
To see raw video from the press conference, visit Orbit Media on Periscope https://goo.gl/bXAvOc.