The former Muskingum University student charged in the April death of her newborn daughter will not be in court as originally scheduled for March 15, 2016.
The 21-year o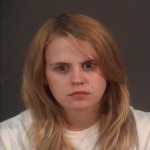 ld has chosen to dismiss her attorney, Clayton Lopez and has hired Attorney Aaron Miller in his place.
Emile Weaver's new trial date is set for May, 10 2016 at 10 a.m. at the Muskingum County Common Pleas Court, according to the Muskingum County Clerk of Courts office. Judge Mark Fleegle will hear the case.
Weaver faces charges of aggravated murder, abuse of a corpse, and two counts of tampering with evidence after her baby was found suffocated in a trash bag outside a University owned house on Lakeside Drive April 22, 2015.
She pleaded not guilty and not guilty by reason of insanity during her July 29 arraignment.
In January, Weaver was found competent to stand trial after pleading not guilty by reason of insanity.
Muskingum County Prosecutor Mike Haddox said the results of Weaver's competency test show she "did not have a severe mental disease or defect which would have caused her the inability to know the wrongfulness of the criminal acts."  The competency test was performed by the Forensic Diagnostic Center of District Nine and included interviews, testing, and reviews of the case among other reports.
Haddox said Weaver faces a maximum penalty of life in prison without parole for the aggravated murder charge, with fewer penalties offering parole after 30, 25, and 20 years of incarceration.