The Muskingum University student charged in the April death of a newborn has been found competent to stand trial, according to Muskingum County Prosecutor, Mike Haddox. Emile Weaver, 21, is scheduled for trial in Judge Mark Fleegle's court on March 15, 2016 at 9 a.m.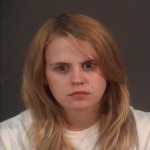 Weaver appeared in court today alongside her attorney Clayton Lopez and Haddox where Judge Fleegle adopted the Jan. 9 results from Weaver's competency test.
Haddox said the results of Weaver's competency test show she "did not have a severe mental disease or defect which would have caused her the inability to know the wrongfulness of the criminal acts."  The competency test was performed by the Forensic Diagnostic Center of District Nine and included interviews, testing, and reviews of the case among other reports.
Weaver is charged with aggravated murder, abuse of a corpse, and tampering with evidence after her newborn girl was found suffocated in a trash bag outside a University owned house on April 22, 2015.
On July 29, 2015, Weaver entered the two pleas of not guilty by reason of insanity and not guilty to all charges. The trial will proceed using the not guilty plea.
Haddox said Weaver faces a maximum penalty of life in prison without parole for the aggravated murder charge, with lesser penalties offering parole after 30, 25, and 20 years of incarceration.