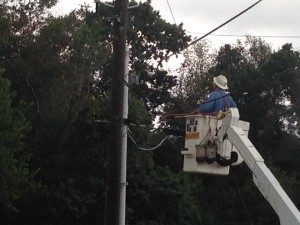 This is an story that will be updated throughout the night.
7:28
The power is back on the West Side of Campus has been restored and WMCO is back on the air. Be sure to come back for an updated story with more information at a later date.
6:08
The west hill of Muskingum University campus has been without power this afternoon. The power outage occurred approximately at 4:18 p.m. and has affected Thomas Hall, Memorial Hall, Moore Hall, the Townhouses and Circle 240. A fuse cutout on an electrical pole behind Moore Hall was damaged and caught on fire.  Lee Rhodes, Superintendent of Campus Facilities and Grounds explained the power outage. "Because it [the fuse cutout] was damaged and caught on fire, we had to shut the power off"
AEP is currently cutting down the part of the pole that was burned but Rhodes is hopeful that power will be back on soon.  "Hopefully within a few hours, the power will be back on and restored."
According to University Police a call came in about the fuse cutout being damaged at approximately 4 p.m. and New Concord Fire Department was called to the scene to extinguish the flame.  The approximate time that power will be back on is in 2 or 3 hours.
WMCO's transmitter site is located on the West Hill and WMCO is currently off air and will be back on as soon as possible.