Christine Holmes/Orbit Media News Correspondent
New Concord and Cassell Station fire departments have contained a Westland Township house fire after homeowner, Angela Carter reported flames coming from the garage of her 3703 Mark Road home at 8:09 p.m.  Friday night.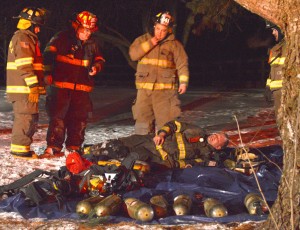 New Concord Engine 903 was first to the scene. Cambridge and Byesville fire departments also assisted with taming the blaze.
Carter said she was inside her home when she heard a loud crack outside, alerting her of the fire. Carter along with her dog and four cats are safe and will be staying with a neighbor for the night.
New Concord Assistant Fire Chief, Troy Cole said the fire spread from the garage to the attic.
"It got up into a small area between two roofs and we've just chased the fire back and forth a little bit," said Cole.
Cole said the garage is a complete loss and the attic is also damaged. The inside of the house received water damage.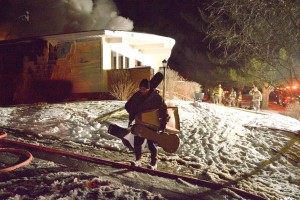 Firefighters and neighbors helped remove Carter's personal items from the home, including a large collection of guitars and other instruments.