Muskingum University celebrated the Class of 2017 Saturday, May 6. #Muskies2017
Watch Baccalaureate and Commencement Services on Orbit Media TV's YouTube channel.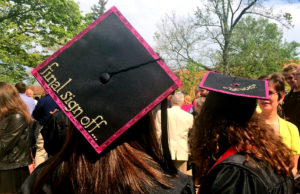 Suzi Hanna '69, was the featured commencement speaker. Hanna shared the inspiration behind her work with the assistance of four friends from the Columbus Zoo and Aquarium: a penguin, sloth, and two cheetahs.
Hanna shared stories about her college years at Muskingum, including meeting husband Jack and taking his pet donkey, Doc, to pep rallies and football games. Their passion for animals fueled them into their successful careers working with wildlife conservation around the wold.
Hanna encouraged students to learn from challenges and difficulties as those "challenges will nourish your mind."  She asked students to think about how people perceive their actions and integrity.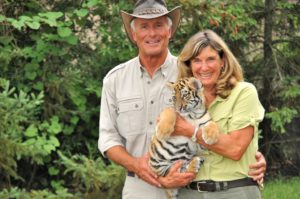 "Much like a roller coaster, life is a journey. With its ups and downs…and when you're up, it's great. But when you're down, it can really be tough. And how you deal with that adversity determines your character. And your character is everything." -Suzi Hanna '69