WMCO will host a live remote broadcast on Muskingum University's Quad from noon to 1 p.m. as part of the Muskingum University Admission Open House Friday, Nov. 10.
The Muskingum Admission Office hosts the event for prospective students to meet current students and faculty, tour campus, and see what Muskingum has to offer.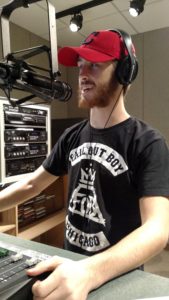 WMCO will be broadcasting some of their favorite music from the Geyer Studio in Caldwell Hall. DJs Logan Weaver and Brice Lillibridge will be on-air explaining what makes WMCO and Orbit Media special to their Muskingum experience.
Listen to our open house remote broadcast Nov. 10. The live remote can be heard on WMCO 90.7 FM. Listen live via OrbitMediaOnline.com,  TuneIn Radio, or our free WMCO app. 
The campus-wide Nov. 10 event will be held from 8:45 a.m.-2 p.m. More information for prospective Muskingum students can be found on the Muskingum University website.