The Columbus Zoo and Aquarium's educational program "Animal Encounters" concluded WMCO Weekend's 10th year.
Animal Encounters attracted the largest and widest variety of attendees during the three-day event. Approximately 200 people gathered in Muskingum's John Glenn Gym March 25 to observe a diverse presentation of animals from across the globe. Calvin and Whitney from the Columbus Zoo and Aquarium led the presentation.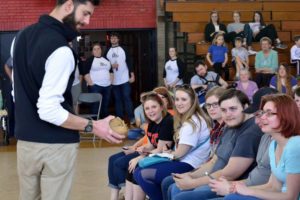 Some of the animals introduced during the event were crowd-favorite Wahoo, an African black-footed penguin, George, an Eastern grey kangaroo, and Bonita, a three-banded armadillo.
All food and monetary donations received at the event were donated to three charities: The American Red Cross, the Muskingum County Animal Shelter, and Operation Feed.
You can view more pictures of this event as well as other WMCO Weekend events at Facebook.com/orbit907news.