Muskingum University recognizes Martin Luther King Jr. in an annual, countywide day of service.
On Jan. 16, Muskingum University participants will spend their day off from classes dispersed throughout the county and neighboring communities to provide various resources for those in need.
According to the Muskingum University Student Life Office, this day of service is to honor Martin Luther King Jr. by providing a day of service.
"It's fun to see the students go out and do this service, and they never want anything in return," said Stacey Allan, Director of Greek Affairs.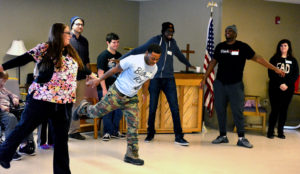 The day begins with breakfast and a presentation of King's life and accomplishments. Students are then led by a faculty/staff member to different locations, such as local animal shelters, United Way, rehab facilities, Christ's Table, Bethel Community Center, and the Breaking Free Therapeutic Riding Center in Norwich. The Village of New Concord has also been involved with the Day of Service with various projects.
Any Muskingum students wishing to participate should fill out a form on OrgSync. The form will ask participants to pick preferences and the results will place them in a location that they will most likely enjoy contributing.