Muskingum University has selected Steve Brockelbank to be the Vice President and Director of Athletics.
President Susan S. Hasseler announced the new hire in emails to faculty and students on Tuesday, Jan. 22. He succeeds Muskingum Athletic Director Larry Shank who retires in June.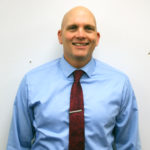 Hasseler is looking forward to the leadership that Brockelbank can bring to Muskingum Athletics.
"We are thrilled to have Steve join our senior leadership team. His diverse experiences in secondary and higher ed[ucation] have shaped his thoughtful and unique perspective on recruiting and developing student-athletes for a lifetime of leadership and service," said Hasseler. "His emphasis on excellence, both on and off the field, firmly aligns with the vision we have for our athletic programs."
Brockelbank has past experience as a coach and being an athletic administrator at both a collegiate and high school level. 
Currently, Brockelbank serves as Associate Athletic Director for Communications and Administration at Miami University. In that role he is in charge of "handling communications, broadcasting human resources, facilities management and game operations" according to Muskingum University Director of Athletics Communication Tom Caudill.
Brockelbank was first interested in Muskingum University due to it's striving for excellence for both the institution and its students.
"Muskingum's expanded emphasis on athletic excellence, which places a high value on the student-athlete experience, academic achievement and positioning teams for success, was extremely attractive to me," said Brockelbank. "I am humbled by the opportunity to serve, and look forward to working closely with our excellent student-athletes, coaches, faculty and staff to move Muskingum's athletic programs forward together."
He is originally from Michigan and holds a Bachelor of Science Degree from Eastern Michigan University and a Master of Education from Spring Arbor College. He continued his education and earned a Master of Educational Leadership from Grand Valley State University.
Brockelbank and his wife Heidi have three children, Hayley, Madisyn, and Morgan, ranging from 15-22 years old.
Brockelbank's first official day as the Vice President and Director of Athletics is April 1.