College Radio Day is a very special day for me and the other DJs and faculty, and staff here at WMCO.  College Radio Day is a day to celebrate what makes college radio: the listeners, the DJs, the faculty, the supporters, and the creative freedom that college radio has over every other medium.
College Radio Day started in 2011, as a way to do two things—raise awareness of college radio as well as give back to the community and thank them for the support.  The first part is the easy part.  College radio is a place for unsigned artists can play their music and there's those who break out and become some of the artists you hear on Top 40 commercial stations. Just to name a few that have played on WMCO's airwaves, we've debuted The Script, Bastille, Alanis Morrisette, Bastille, Norah Jones, Ziggy Marley, and Aloe Blacc. There's many, many more but I couldn't give you a big enough list.
The second half is the more difficult part of College Radio Day to talk about.  Over the last few years, there have been many college radio stations that have been sold by universities who have gone into debt. Stations from Rice, Gerogia State, and Vanderbilt were there one day and gone the next.  The unfortunate reality of the situation is that that there are colleges that go into debt and sell off their radio station to make up some of the difference. This could potentially happen to each and every college radio station across the country, including ours.  Here at WMCO, we are thankful to have such a supportive Muskingum administration who knows the value and the skills we learn. Radio is expensive, and College Radio Day is a way to show appreciation to those who listen and give us the facilities we currently use.  We here at WMCO aim to not take anything for granted during our time here at Muskingum.
For me, college radio is a way of life.  I joined radio here my first semester on a whim. Dr. Marshall, the WMCO Station Manager, promoted becoming a part of WMCO through our training program. I honestly just tried it out because I was a freshman and wanted to do something new and different and it's been one of the best decisions I've made. Since then, I have gone up the ranks, starting off as a trainee, then becoming a general staff member, then News Director for two years, then finally becoming the Program Director at the start of this school year.  It's been a wonderful experience and honestly, there aren't enough words to express my gratitude, but I'm going to try….
First, I have learned so many valuable skills at WMCO.  From learning how to communicate on air to a whole audience…to learning what it takes to become a leader of an organization.  Over the years, I have grown exponentially in my interviewing skills.  I've been able to interview so many different people, from country music artists Craig Morgan and Mitch Rossell to a Holocaust survivor, Dr. Renate Neeman. I've had so many opportunities given to me here that it still blows my mind.  Who can say things like that before they've graduated college…they've interviewed a major country artist or a person that survived such a horrible tragedy like the Holocaust? Or…wrote 200 news stories in one school year, with the help of a news team? Honestly, not many students can. And it's the experiences every DJ gets here and at other stations that will leave also leave an impression on future employers.
The other thing is that I've honestly met some of the absolute best people through college radio here at WMCO.  I met my best friend, Kayla Rausch, through my experience with WMCO.  My freshman year, there were three seniors—Mark Danner, Jess White, and Kaylee Lukacena—who took me under their wing. I still talk to them to this day because there's such a strong bond between us.  That's not even to mention the faculty here that trains us. Dr. Lisa Marshall, Dr. Jeff Harman, Dr. Tom German, and Mark Bohach are some of the best mentors we could ever ask for.  They answer our questions…they push us to be better…they give us the best opportunity to do the things that we love to the best of our ability.
In my freshman year, we were in our newsroom and created a "family tree" outlining who trained who on radio staff.  It got a little crazy, but it became the foundation that is WMCO. I updated the tree this semester and branched it out further and added more names, thanks to some alumni that filled in the blanks.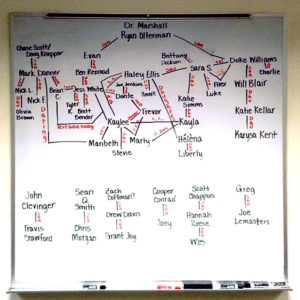 I showed this to our new trainee class this semester, standing in front of them, and said becoming a part of WMCO means that you become a part of a family and ultimately something that is bigger then just one person.  
I said three years later I believe that statement more then ever. You can see the growth in the two trees, but what you don't see is that each and every person here is a part of the WMCO Family.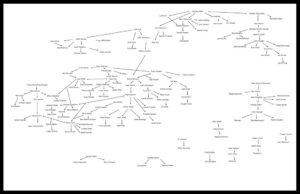 We fight, we argue, we don't always agree on how to do things. But at the end of the day there is nobody I'd rather go to for help, to hang out, to enjoy my four years here at Muskingum.  The people I've become friends with have seen me at my absolute best and my absolute worst and if that isn't family, I don't know what is. I can't tell you how many heart-to-heart conversations I've had and how many good stories that have come from the second floor of Caldwell Hall.
So here's to College Radio Day! Here's to all the people that make it possible! On behalf of everybody here at WMCO, thank you to the Muskingum University administration, the faculty, the staff, the listeners, the underwriters, and all those who support us in what we do.  We couldn't have done this for over 55 years without your support!
In honor of College Radio, WMCO will be broadcasting live for 24 hours Friday, Nov. 4. From midnight to midnight, you can catch some of your favorite DJs on air. From 11 a.m. to 1 p.m., WMCO will be broadcasting live on the Quad where students can come and talk to us at our tent.