Being a first-year student in college can create several challenges. One group that is able to help ease the stress of moving onto campus for the first time is Student Life.
August 26-28 is Welcome Weekend at Muskingum University, which consists of multiple activities to help make the transition process easier for both students and parents.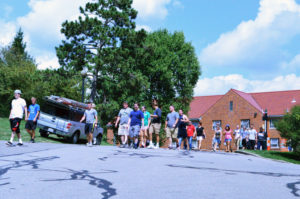 Director of Residence Life, Andi Milligan, said first-year students should be social during the first week.
"Just be ready to meet new people, make new friends, and get ready for classes on Monday," said Milligan. "It's going to be a good year."
Milligan said that first-year students should try to be involved in as many Welcome Weekend activities as possible.
"You'll make some new lifelong friends and I think that's the reason we do all this stuff," said Milligan.
Gus Summers, an incoming first-year student from Virginia, said he looked forward to the weekend's events.
"All of the events seem really fun," said Summers, who plans to be a psychology major.
Summers said he has received advice from his parents on how to succeed in college.
"[My] mom has given a lot," said Summers, "Dad probably said something but I wasn't paying attention."
Zack Thompson, an incoming first-year student from Amesville, Ohio, is also relying on advice given to him before moving to campus.
"If you have a question, don't be afraid to ask," said Thompson.
The weekend kicked off Friday, August 26, featuring check-in during the day and S'mores Under the Stars at night.
Saturday, August 27 featured multiple activities throughout the day. The day started with Stock-Your-Room Bingo for a chance to win prizes and essentials needed to get through the school year.
Other activities included sand volleyball on the new court and water polo in the lake. Events on the East Lawn featured kickball and making tie-dye shirts.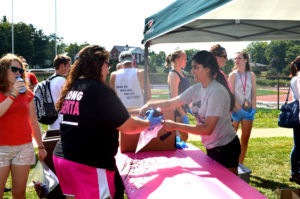 The events continued throughout the evening in the Chess Center with speed-friending and a performance by comedian Jay Dukes.
Sunday, August 28 wraps up the weekend's events with a "Jungle Book" screening at 2 p.m. in the Chess Center Social Hall.