At just twenty years old, Jason Schaumleffel hopes to become a member of the Tri-Valley School Board. He began actively participating in public affairs three years ago when he attended his first County Commissioners meeting, attending his first School Board meeting a year later.
"Imagine an average person going to the state house, or some big event like that," Schaumleffel said.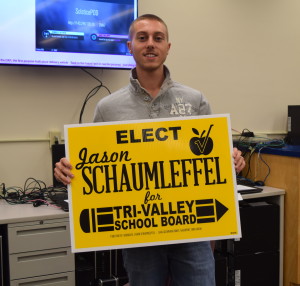 Although his first public meeting was daunting, County Commissioner Jim Porter made things better for Schaumleffel by taking him under his wing.
"I went to my first meeting, and he got me excited to go to the other meetings," Schaumleffel said, "and while the other two county commissioners just sat there and did the business that you normally do as a county commissioner, he would ask me questions like 'What would you do, Jason, in this situation?'"
Since then, Schaumleffel has been hooked.
"[Sitting] in on executive sessions and things like that really finited my desire to want to get involved in politics," he said.
Schaumleffel decided to enter the race for school board when a spot opened.
"Terry Hutchinson, one of the three board members that would be running, decided not to rerun," he said. "At the current time no one else was running, so I decided to put my hat in the game."
If he doesn't win, Schaumleffel knows he will have still gained experience.
"I've learned a lot…how to put signs up, how to do a campaign door to door, how to talk to people," he said. "It's nerve-racking because you spend so much time and energy and money – you want to win.
Schaumleffel feels that many of the activities pertaining to public administration he's been involved in have him more than adequately prepared him for a position on the school board.
He has been involved in public, school board, and township meetings as well as public administration work, and many internships. Last summer he completed eight internships and two the summer before.
He's also performed research for Tri-Valley, and has been involved in all of the township meetings in the Tri-Valley School District, gaining a great deal of education and experience.
If elected, he hopes to contribute to the school board in a different way than usual – with a young person's perspective.
"Someone of our parents' generation will have one or two jobs in their life…someone of our generation will have a new job every five years because of how the market will change," Schaumleffel said, "So my goal is to bring that in."
Specifically, he wants to be on the technology committee, with the intent of utilizing technological resources in the classroom.
"It's something…I'm very knowledgeable about, so I feel like I can bring that new technology revolution to Tri-Valley School Board," Schaumleffel said. "We'll see some dramatic changes, not only in education for students but in the growth of our employment and how we handle employee issues."
Schaumleffel plans on contributing, but also gaining something for himself – knowledge and experience.
"I think I'll learn a lot. I go to the meetings and I'm always interactive with the committee, but to actually sit on the board and be able to make actual policy decisions, I think that would be crazy," he said.
Schaumleffel is involved in eight Muskingum University organizations, all of which he holds leadership positions. He is also Sophomore Class President and plans to run for Executive President of the Student Body, where he will represent all students on the Board of Trustees.
If elected, Schaumleffel's first meeting as a member of the School Board will be held on the second Thursday of January.