The final Muskingum University Library Author Talk of the semester welcomed author James Sturtevant and his book, Hacking Engagement: 50 Tips and Tools to Engage Teachers and Learners Daily. He presented his talk April 20 to Muskingum University students, faculty, staff, and community members gathered in the Roberta A. Smith Library.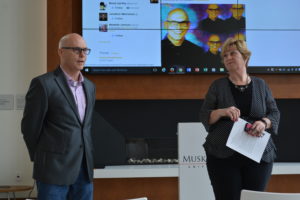 Released in 2016, Hacking Engagement is Sturtevant's second book. The book gives educators tips on how to engage today's students with technology and different approaches to teaching. Sturtevant used a template of each chapter consisting of one tool and roughly 500 – 600 words per chapter.
For Sturtevant who has taught for 32 years, he wanted to give the reader different ideas of what teaching can mean.
"In order to engage today's students, you have to be relevant," said Sturtevant.
Sturtevant started this book after his 2014 release, You've Gotta Connect, and said "engaging students is tougher and harder now then it was two or three years ago."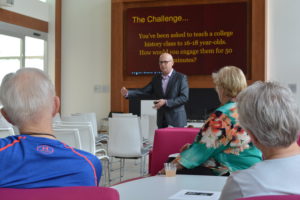 Sturtevant is currently a high school Social Studies teacher at Big Walnut High School in Sunbury, Ohio. His father was a professor at Muskingum University. James earned his Bachelor's Degree from Muskingum in 1983.
Sturtevant's talk had three sections. The first section he discussed the obstacles to engaging students in today's classrooms. The second section he showed how to use different tools and programs in the classroom such as EdPuzzle and Kahoot and the final section touched on how to apply his examples to tomorrow's lesson plan.
Sturtevant said he wants tomorrow's teachers to understand while there is always new technology to apply to classrooms, you still have to know the basics of interacting with students.
"You can have all the technology in the world. You can have it down pat, but you still have to have that relationship part of it. You still have to deliver this message in an effective way and that's not a skill that comes easy," said Sturtevant.
Sturtevant continues to write and does a podcast called Hacking Engagements which focuses on problems and solutions to help engage students.